14/7/15 - Introduction

Well it's been a while since selling my Golf ARL. Those that are aware will know it made over 300hp from mixture of custom made parts when no 2260 kits were available.
So the new project car is Audi A4 3.0TDI estate (CCWA engine code) - 240hp model auto (TIP) - I didn't want a manual as the clutch limit appears to be 750nm. The auto box has reported torque limit of 800nm.
Decided on a B8 simply because the early ones suffered from injector failure causing engine damage and they don't come with the 2260 as stock.

Even though the car came with full Audi history the air filter is in a poor state looks like they've changed only the oil and filter the last few times.
First action plan is to service it soon and ask my cousin @ teamspb to give it a detail.

Here are some pics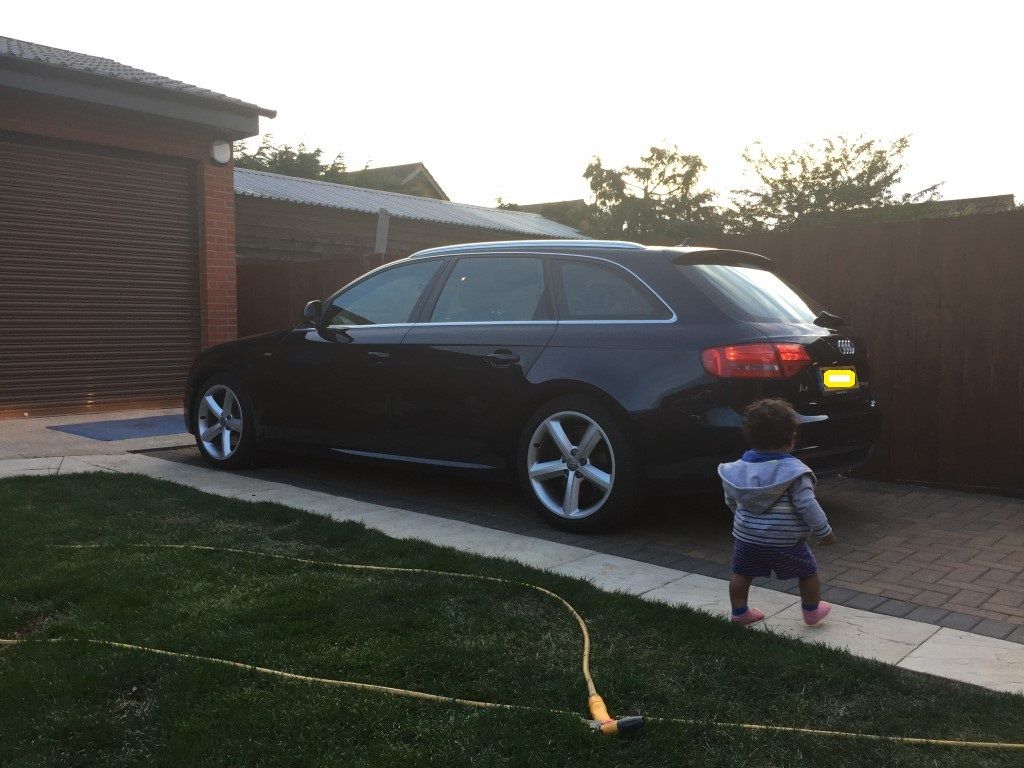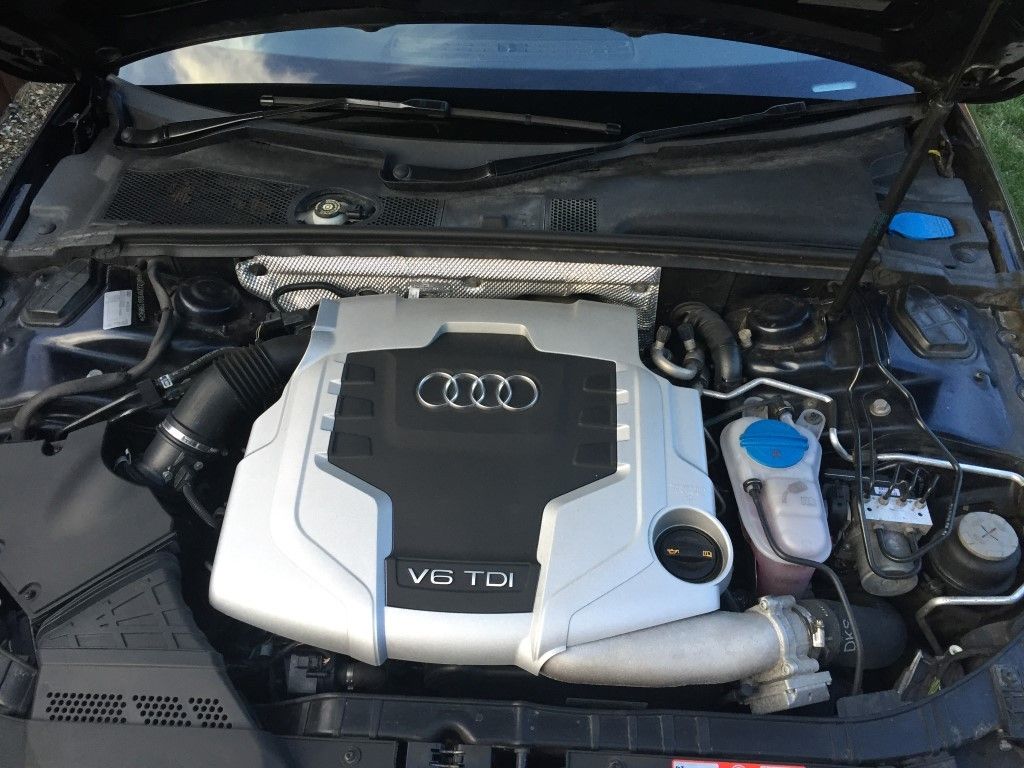 Good news I don't think anyone has been in there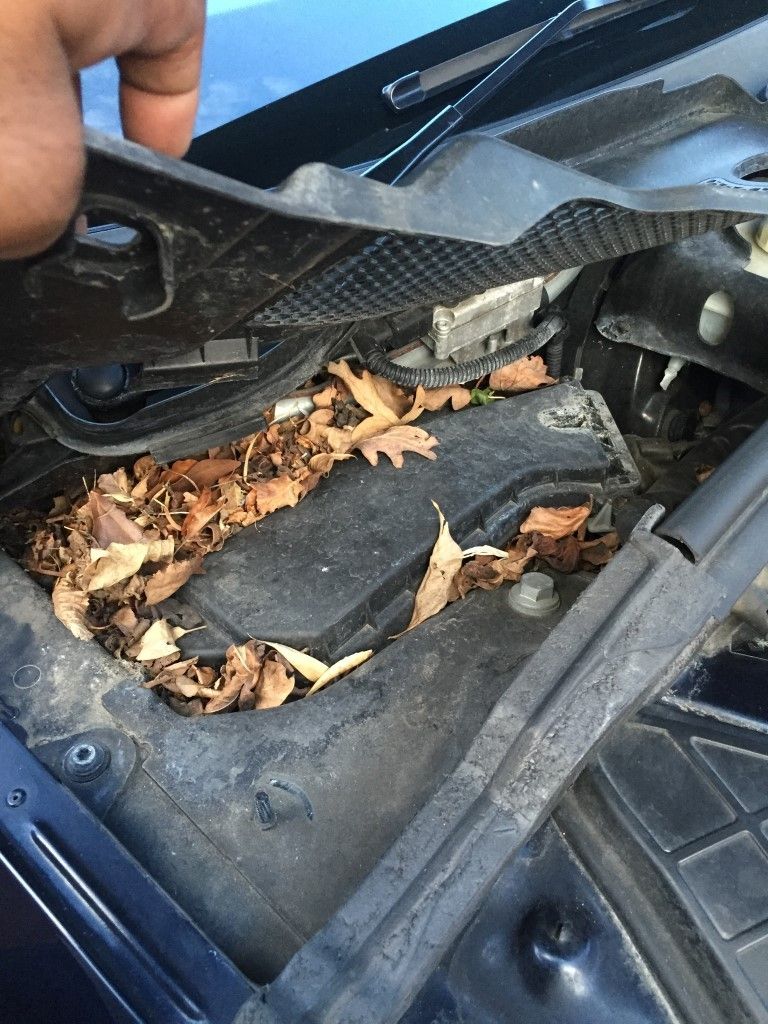 The famous 2260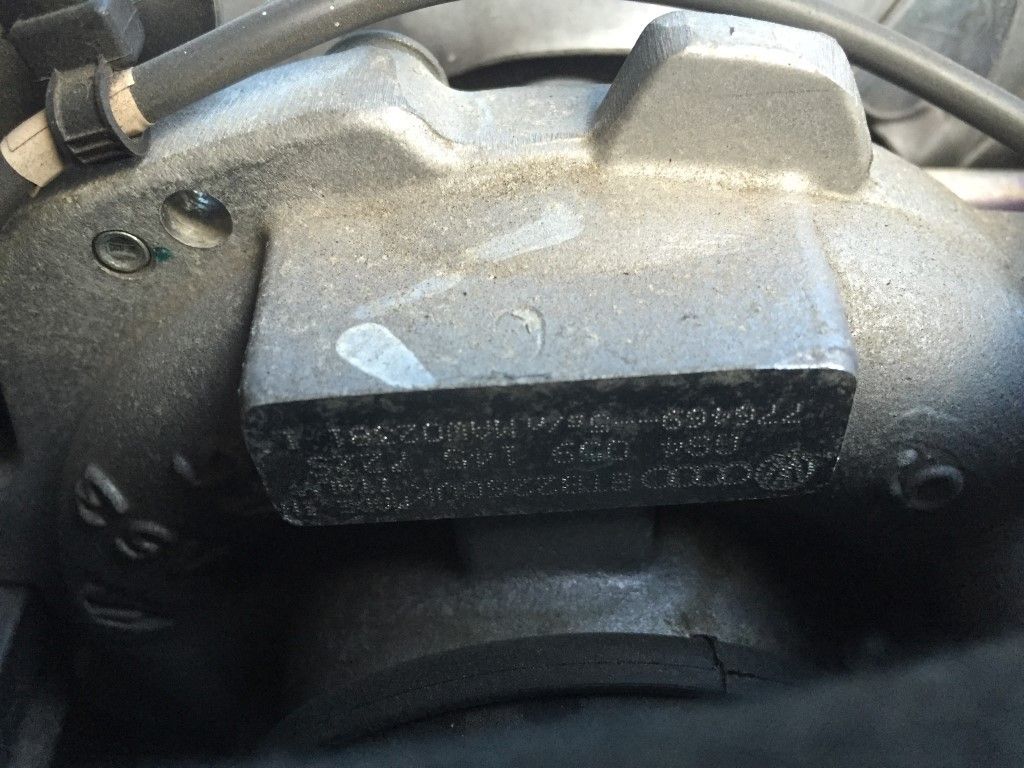 Inside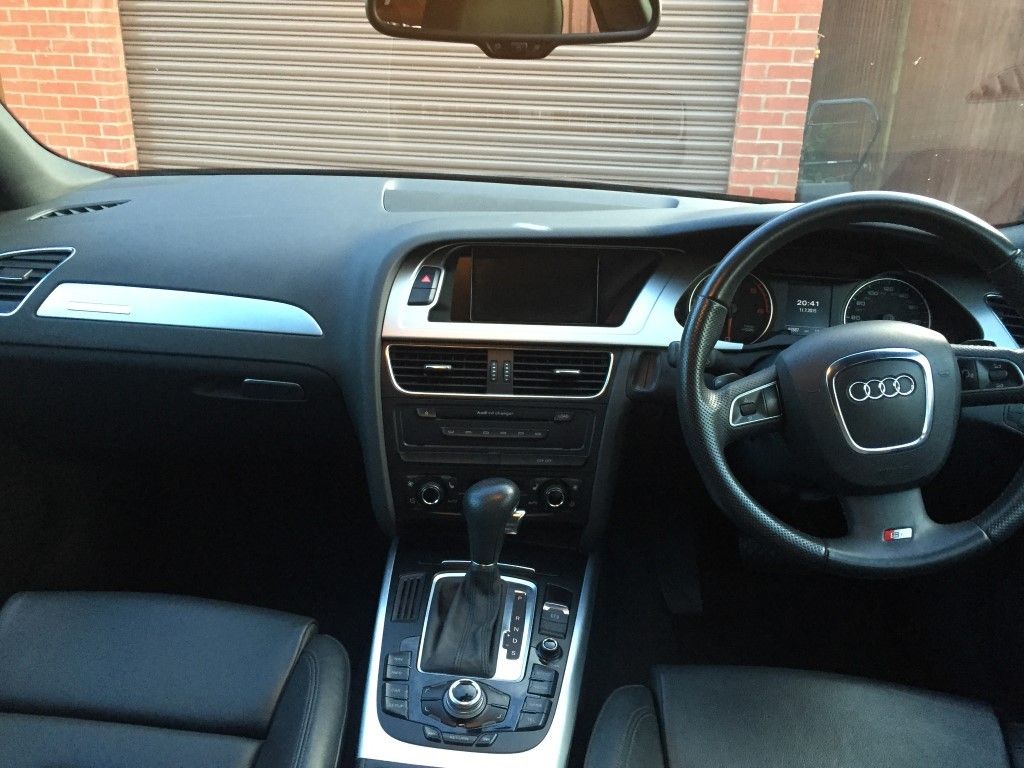 15/7/15 – Read attempt

I had some time yesterday so attempted to read the ecu, but failed to get a read out.
Further digging has shown that software 0006 is boot mode only - basically ecu out job on the bench.

I'll tackle that on the weekend.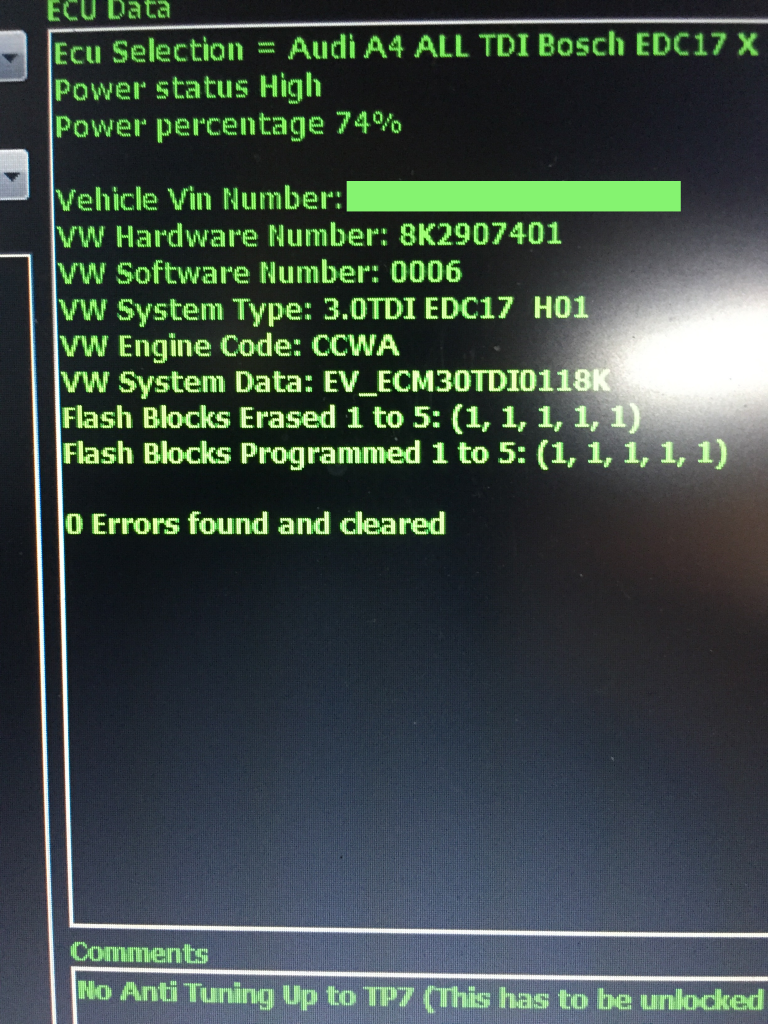 Fixed the Fuel cap motor wasn't locking (common problem so worth trying a bit of cleaner first) and the rear wiper jets weren't working.

20/7/15 – Boot mode & service

Carried out some more work on the car this weekend.
Removed the ecu and using a heat gun, blade and patience removed the bonded cover: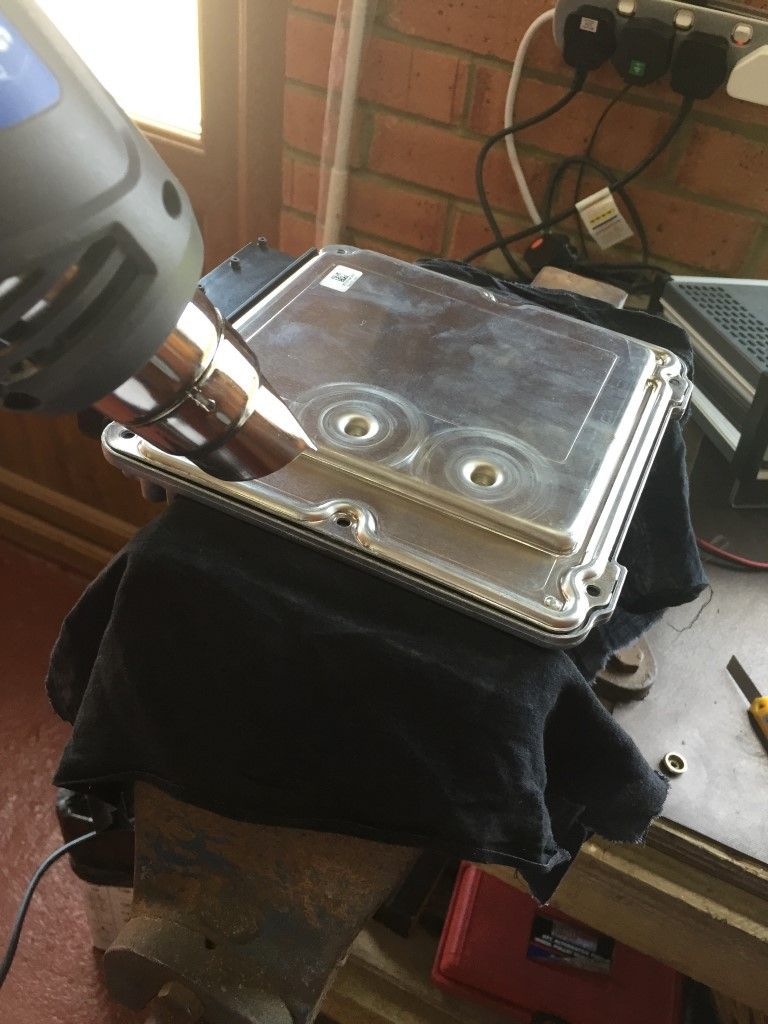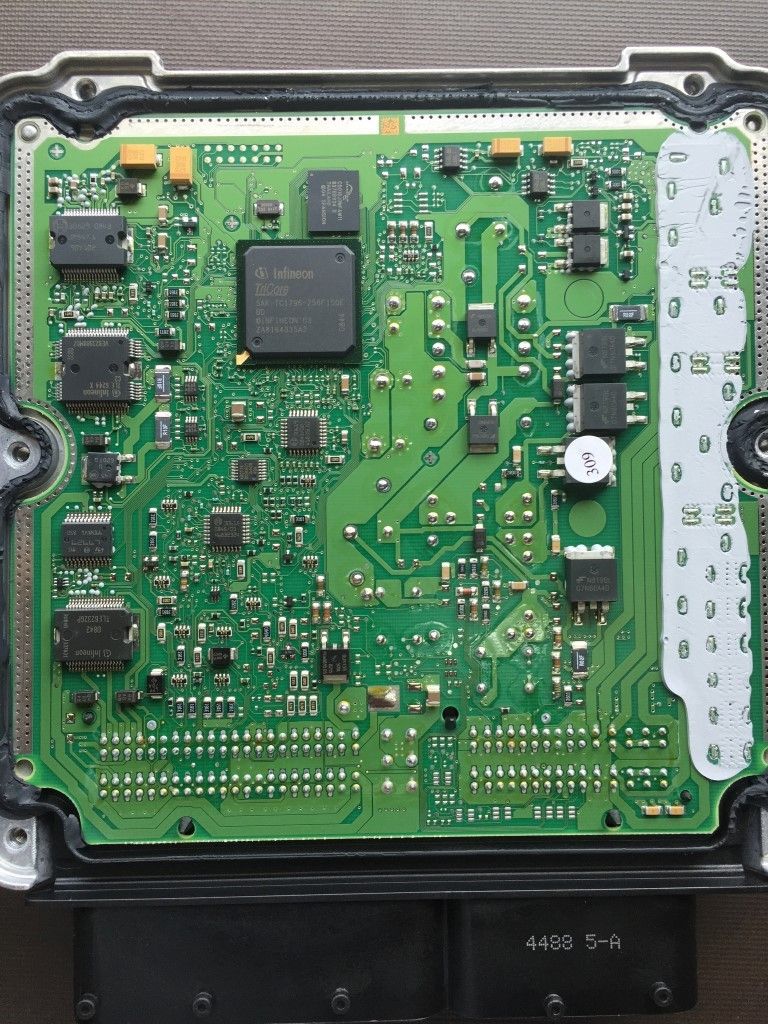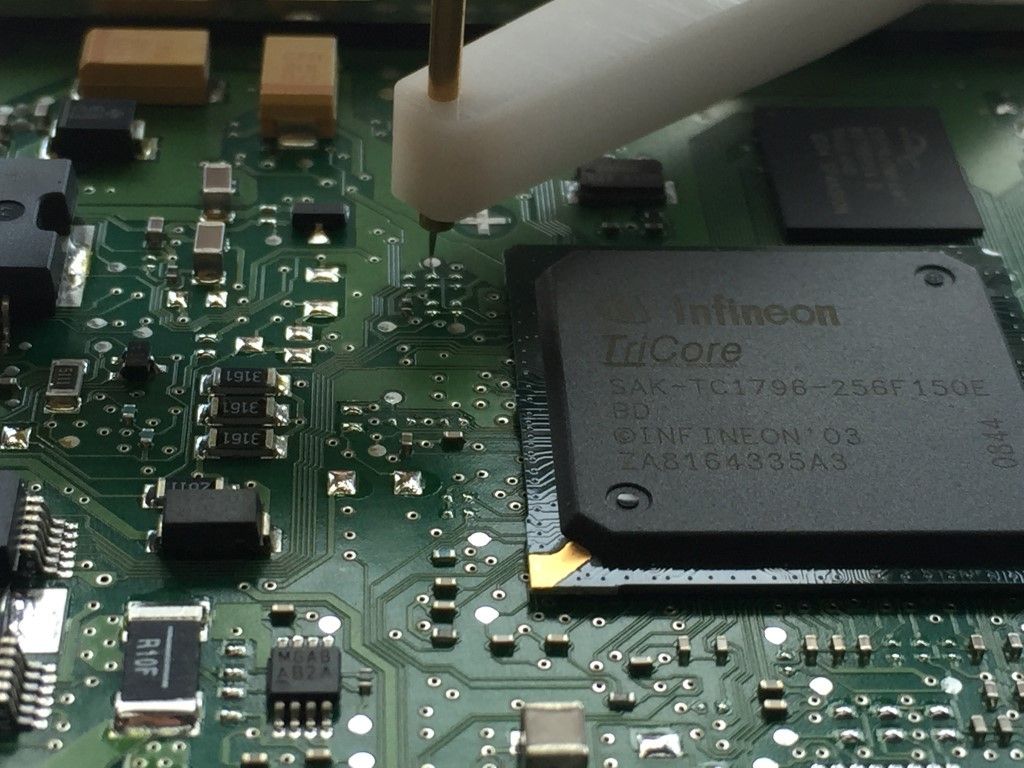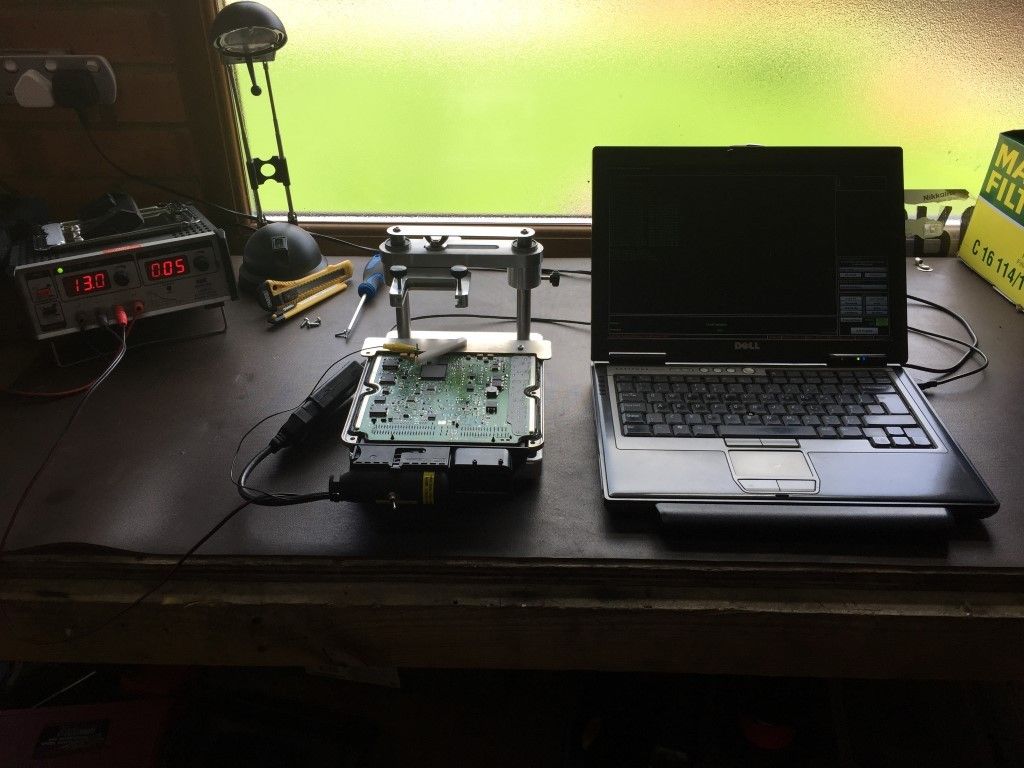 Got a successful read of all memories in case I ever need to clone the ecu


Next job service (air, fuel and pollen)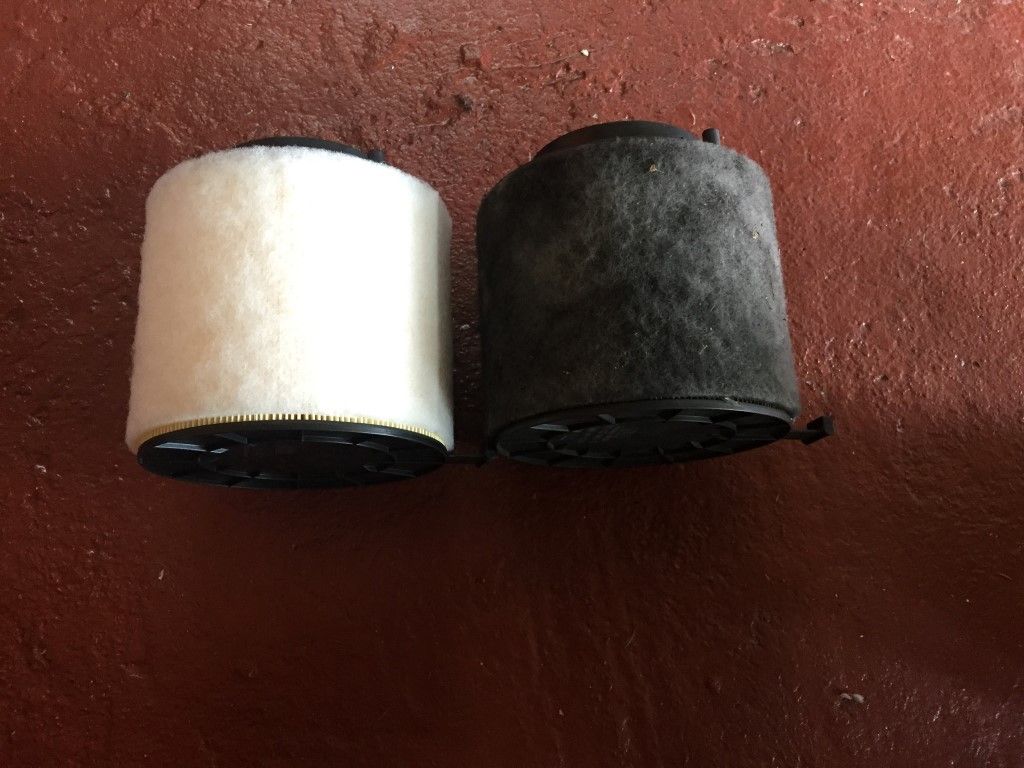 Detailed

Yesterday got my cousin from (teamspb) to do the detail on the car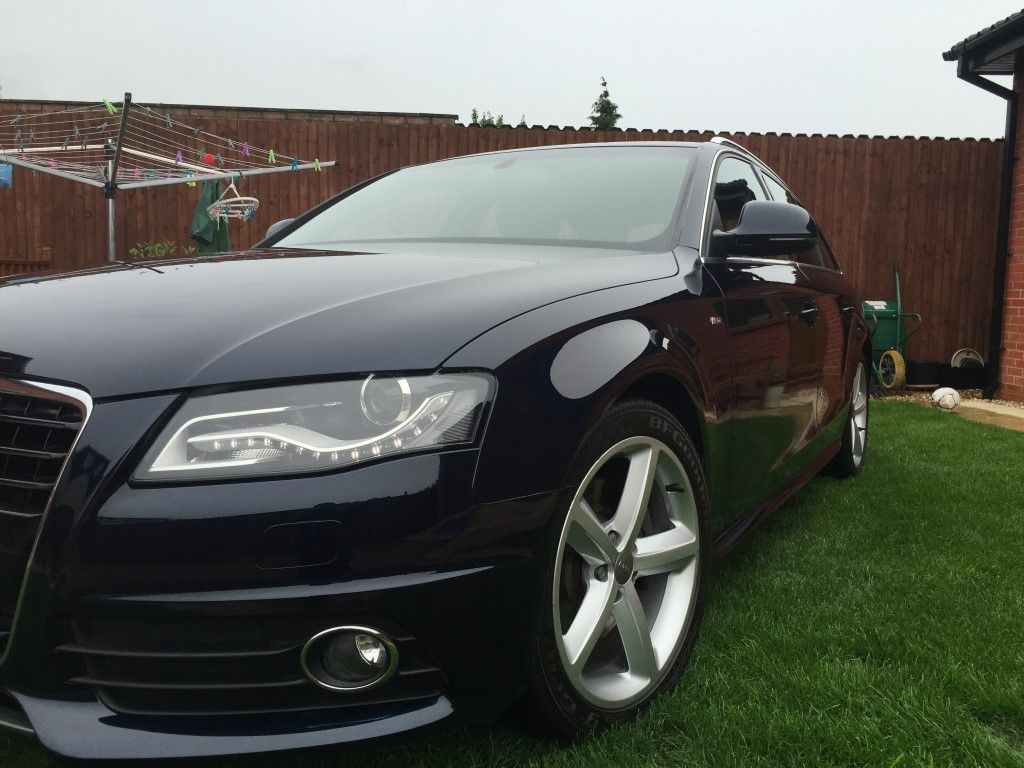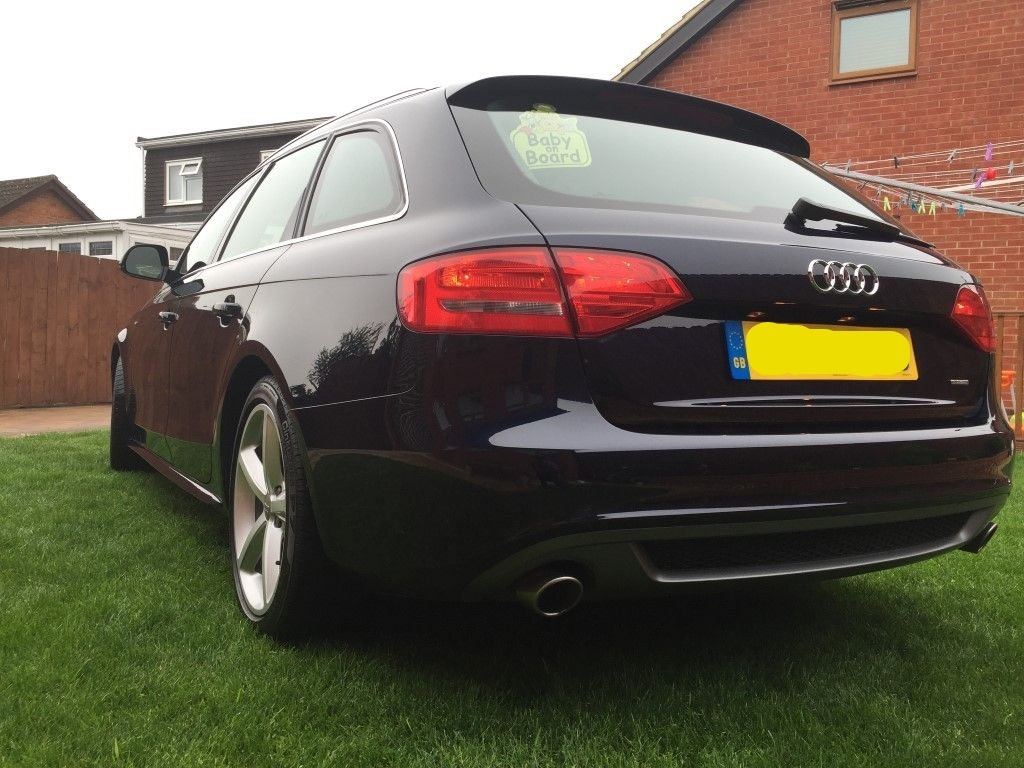 This week I'll prepare a stage 1 tune (with egr off) and see what it does - I've unlocked the ECU for obd tuning so will make revision uploading easier.

17/8/15 – Air box butterfly, Stage 1 tune & DPF pipe

Removed the air box butterfly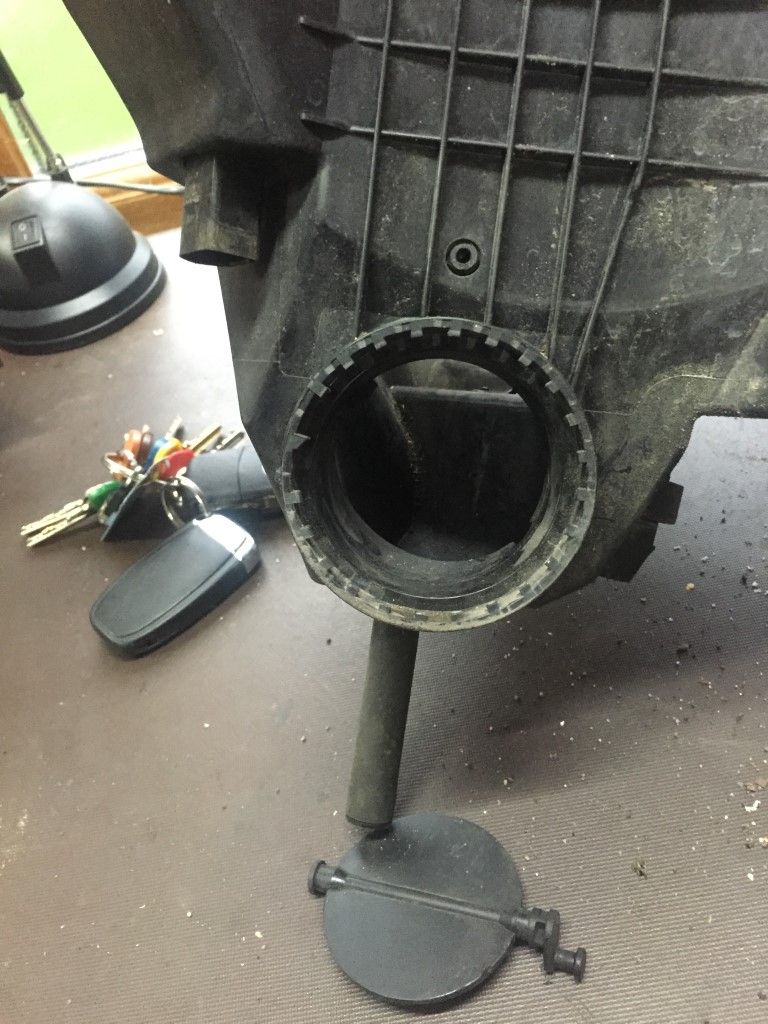 Also, started work on the tune.
For stage 1 I want to keep stock hardware including DPF and just remove EGR from software.

Even with the correct damos file this sofware it's not a easy task over 20k labels.
I was being limited to 620nm torq limit - but finding the limiter for this has resolved this issue.
Anyways after many revisions (all over boot mode) the MAF (hfm) is maxed out and remains flat lined after 3.5k

EGR is off via software

Nice punch in the midrange with 1.9bar and nice healthy IQ of 86mg

It's nice to see the fuel pump is keeping and there is no pressure drop so far.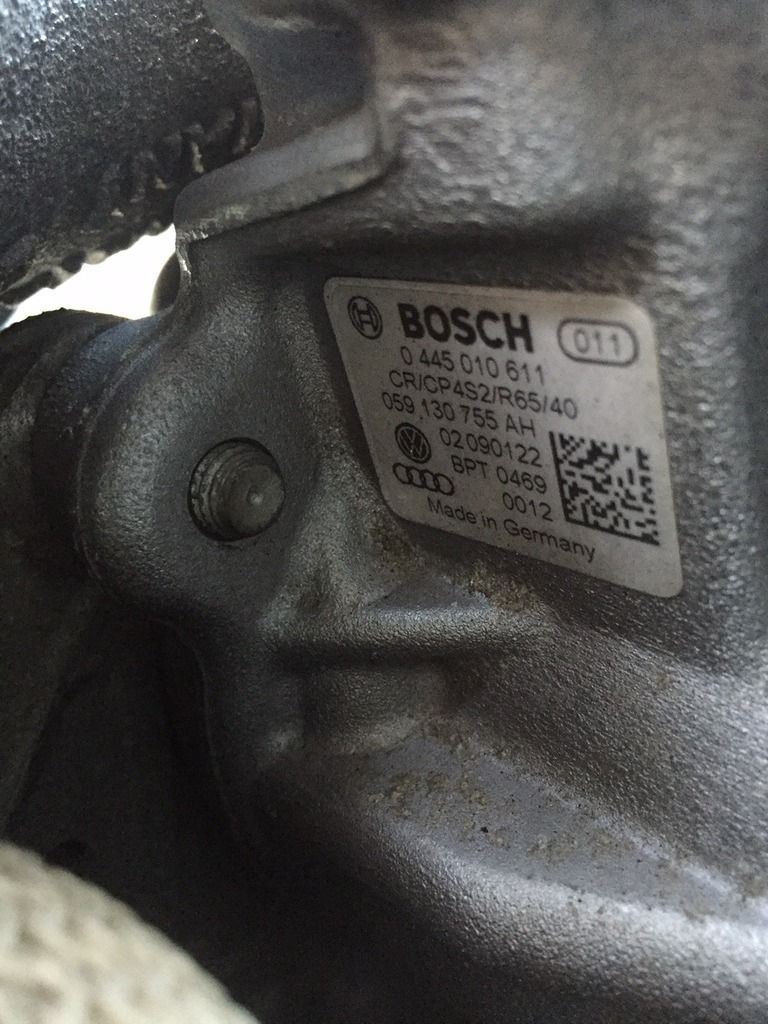 For stage 2 (DPF off) I will replace the MAP sensor with a 4 bar unit and change the tune for a maf delete (this will not be an easy job and will require many hours in calibrating fuel)

I will book a dyno slot this week and see what it does.

DPF delete will be with me soon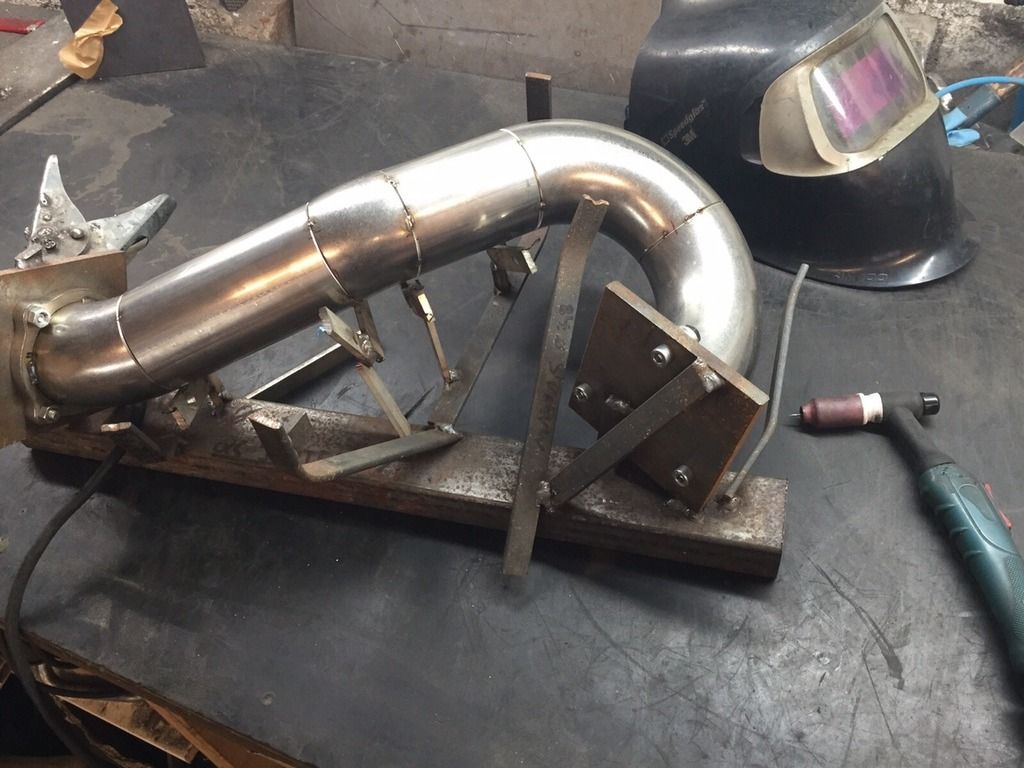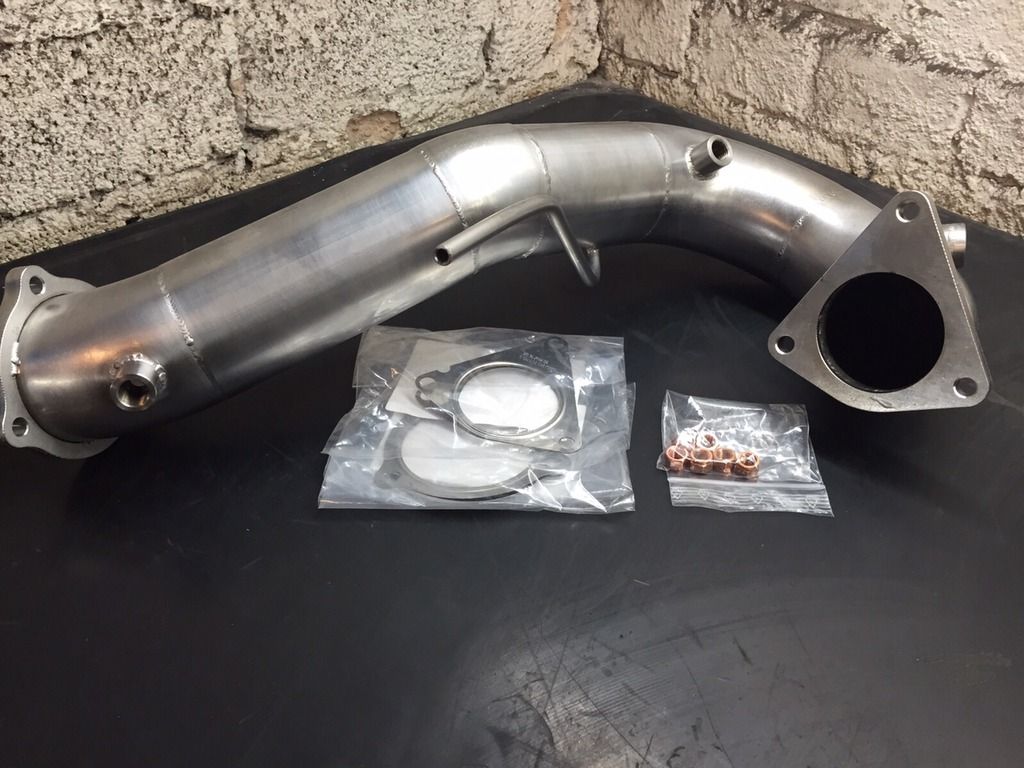 22/8/15 – Stage 1 dyno

Made it to the dyno today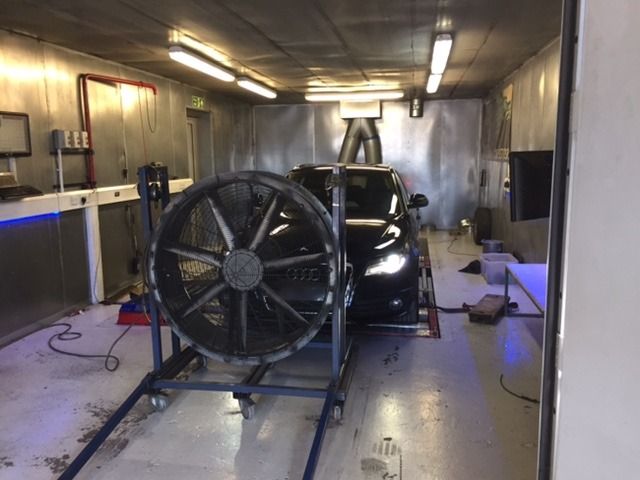 Stock car with stock map: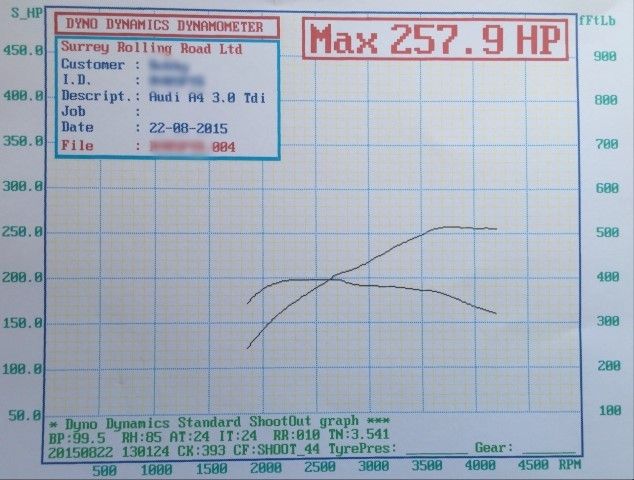 Stage 1 tune with stock hardware (inc dpf):
313hp 650nm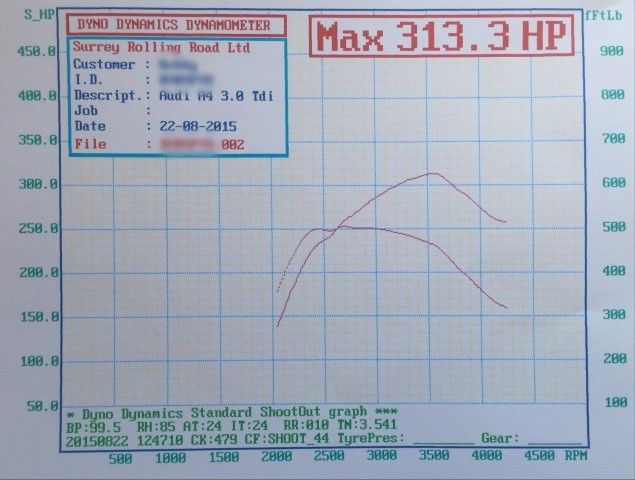 Pleased with the result

Just a shame I went on such a hot day. My air charge temp were showing 80deg on the dyno runs. I need to confirm at what temp does the torque limiter kick in.
More digging into the map tomorrow.

Next fit the 3" dpf delete pipe, remove the egr and maybe the maf.

24/8/15 – DPF removed

Removed the DPF pipe yesterday and fitted the 3" delete pipe.

Impressive fit.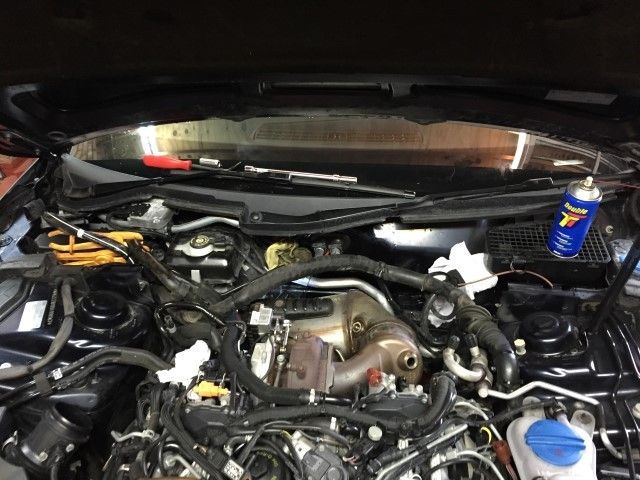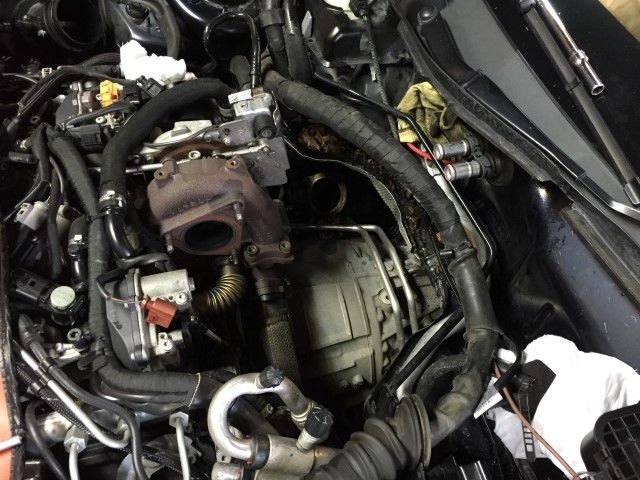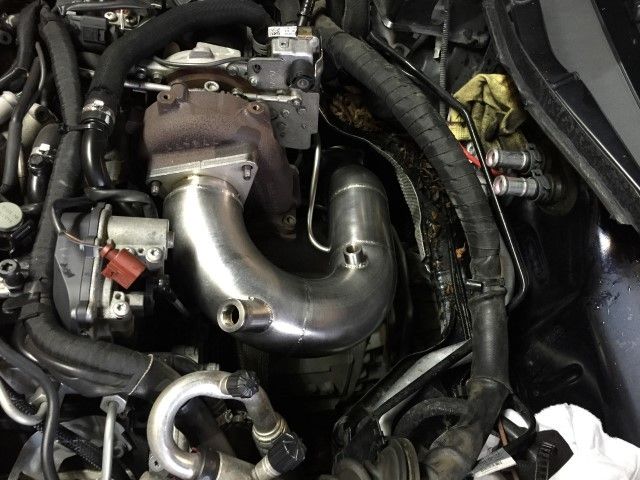 Performs much better during low and mid-range rpm now.

Still need to perform some logging to see if the N75 requires a tweak as the dpf restriction has been removed.
There is zero smoke which is great.

After logging I will establish if there is any scope for more fuel.

1/9/15 – S4 brakes, wheel bearing & 4 bar map sensor

Last week had to replace my front right wheel bearing, there was no play in the wheel and the outer bearing appeared fine.
On removal the rear bearing was running dry.

The bearing was seized inside the hub carrier and even broke my sliding hammer.

Managed to remove it though: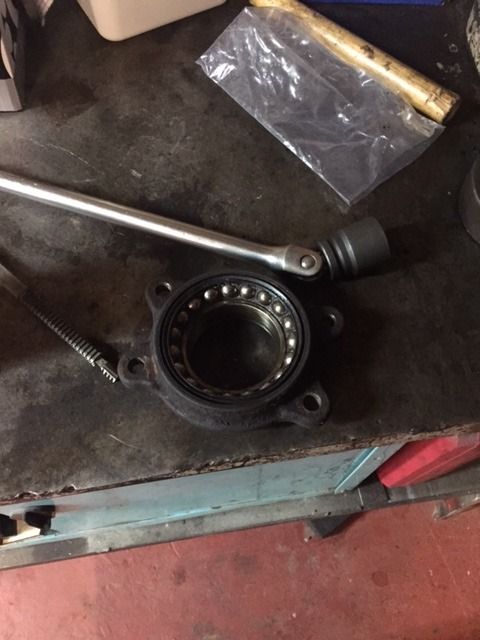 S4 Brake upgrade

Managed to get my hands on a full Audi S4 set up

345mm front

330mm Rears (vented)

Pads looked in good shape so I made use of them and changed the brake fluid out for some ATE 200.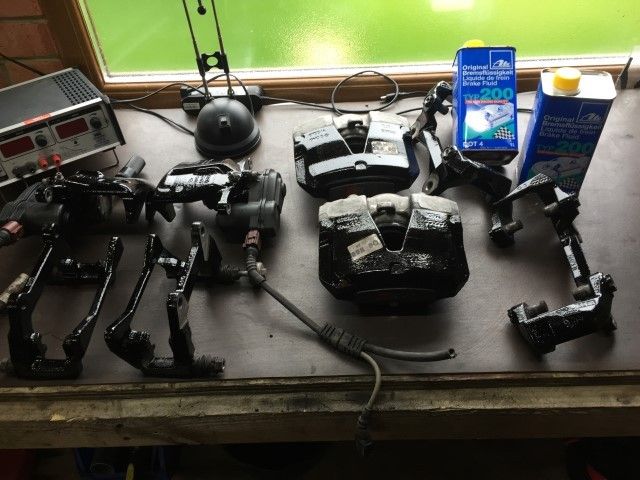 Stock rears: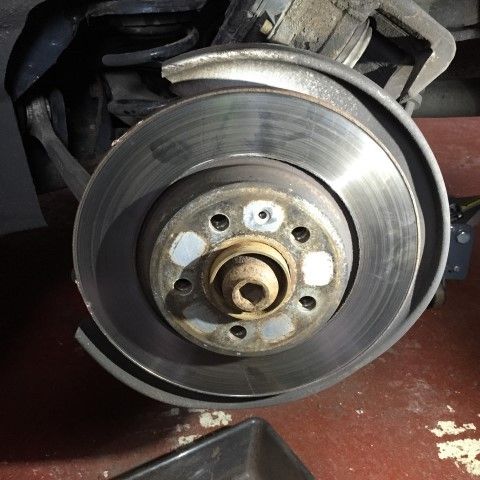 S4 rears: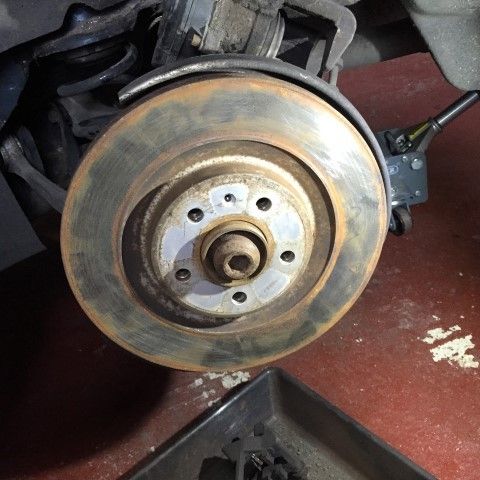 Front's: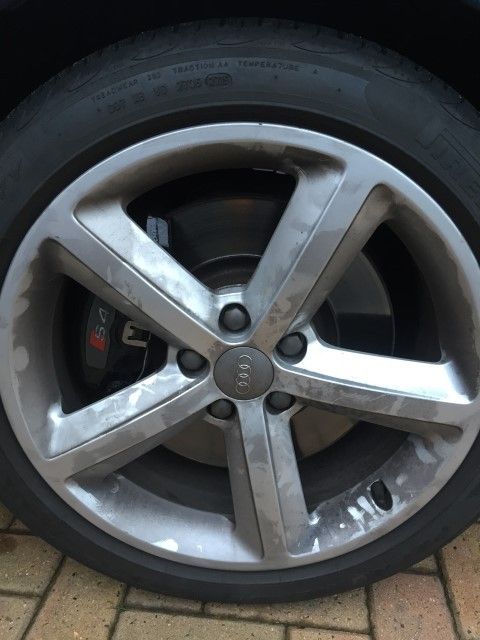 4bar map sensor

On the tuning side I've mounted a 4 bar map sensor now and will try more boost to see if 700nm can be cracked.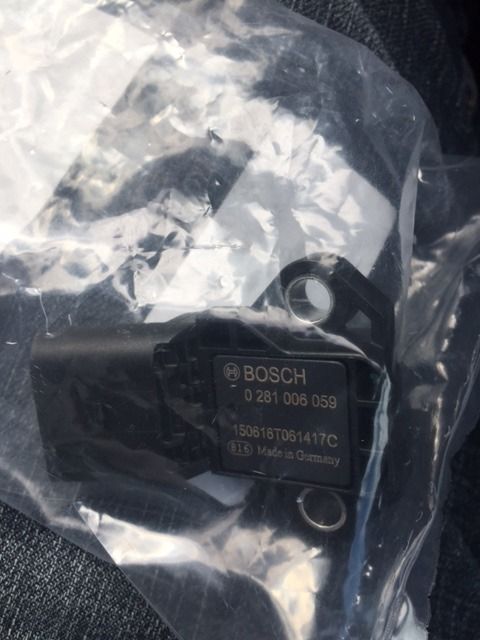 5/9/15 – Stage 2 (dpf off) dyno

Went for a second power run today
Peak power hasn't increased as expected (turbo cannot flow any more air top end) however nice healthy increase in torque and power is holding much better now.

317hp 720nm



Here you can see the difference between stage 1 and 2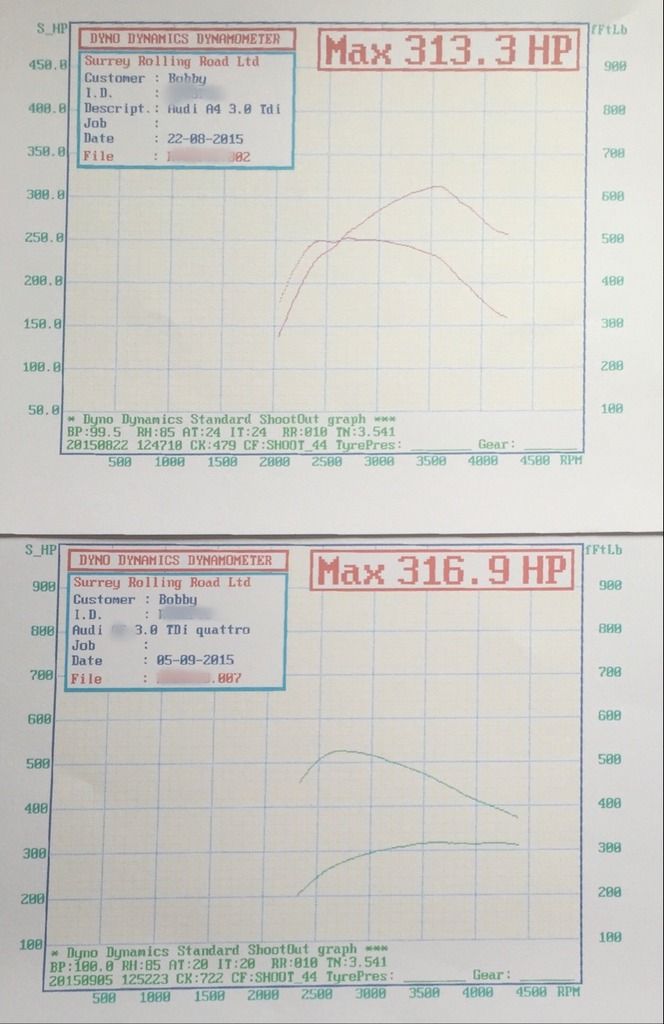 Again air charge temp hit 86deg.

16/9/15 Wagner intercooler (competition)

Excellent quality item - Mark @ Wagner has opened me an account so can get these at discounted price if required.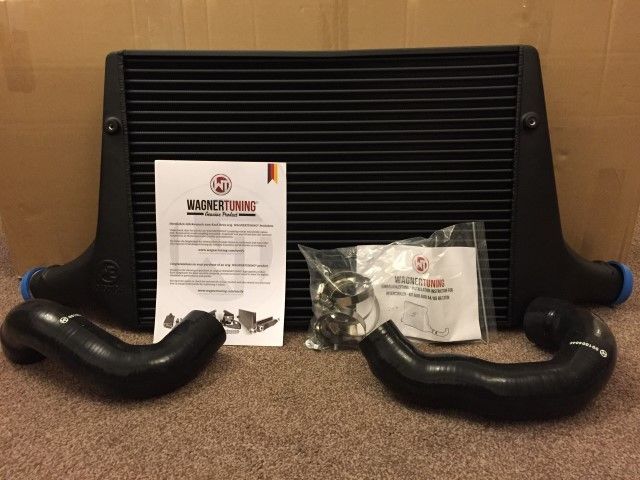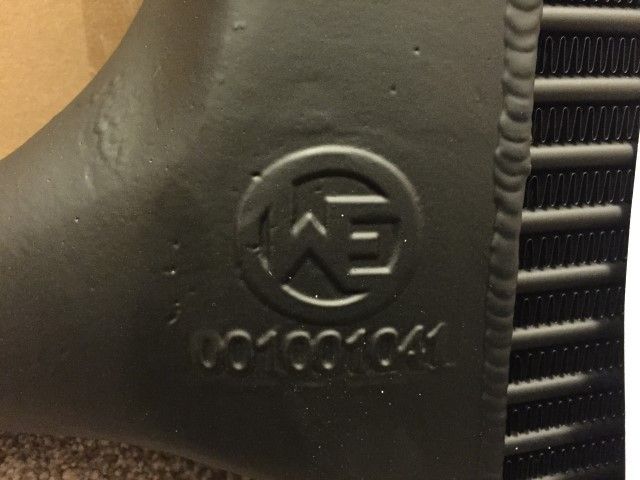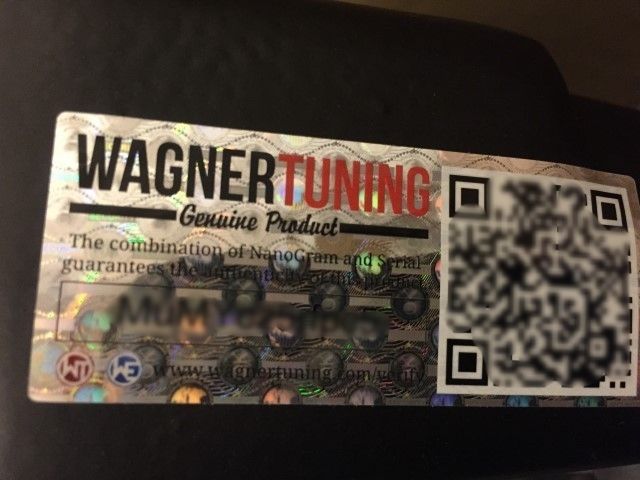 Hopefully get this fitted on the weekend and then exhaust

19/9/15

Intercooler fitted & pressure drop test performed

Take off adaptor made for inlet manifold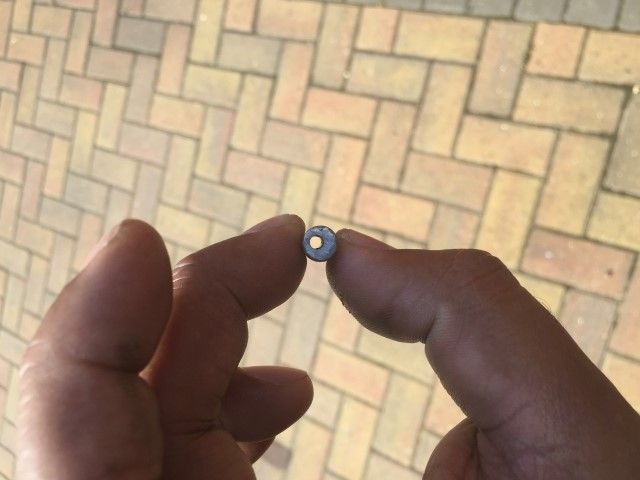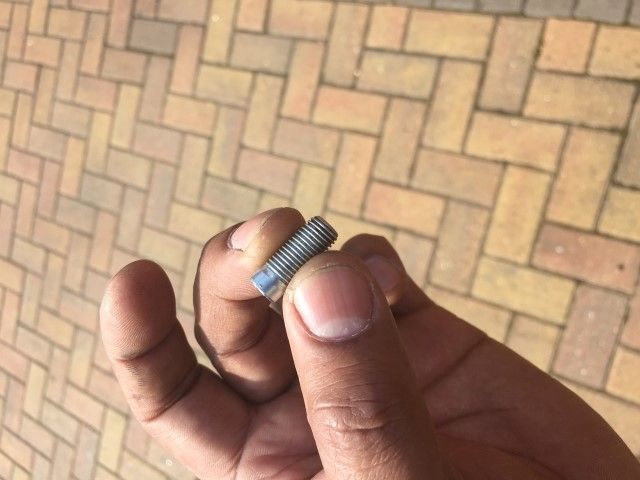 For the turbo compressor side got a 57mm pipe, drilled a hole and fitted a nut & bolt with a hole in the centre. Then in the map made some changes to the dpf delta P sensor so that it be used for pressure drop testing.

Intercooler

Stock Vs Wanger: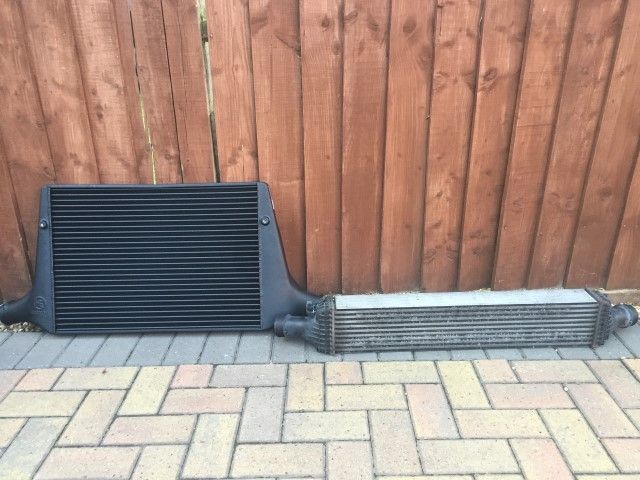 Rubbish behind the old intercooler:

Shocked how well it was working with this behind it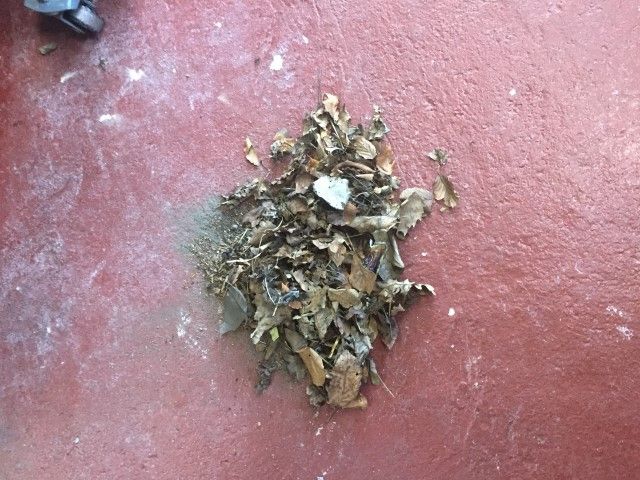 Mounted
Modified the mounting to get more threads on the bolt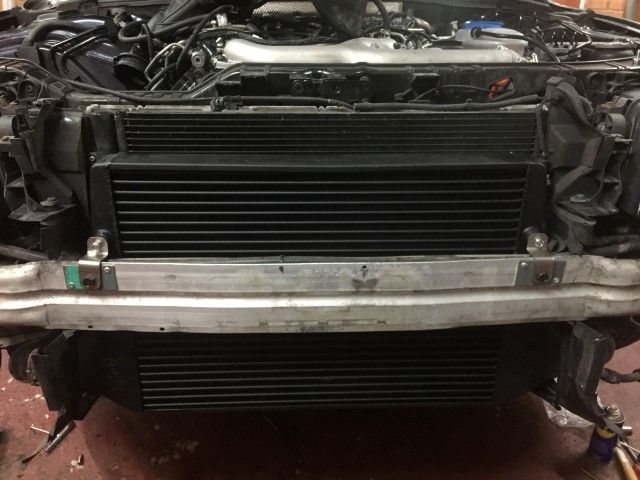 Stock intercooler (and pipework) produced 226 mbar pressure drop
Wagner intercooler (and pipework) produced peak pressure drop of 210mabr

Throughout the rpm range the wagner produced less pressure drop generally - good news for the turbo.

I will now test with different pipe work to see if i can bring the pressure drop further down.

On temp side the difference is outstanding - peak temp showed 19 deg @ 4600rpm - impressive

While I was in a testing mode I monitored the exhaust back pressure and peak figure of 130mbar was seen, meaning I don't expect much of a power increase from the exhaust.

27/9/15 - Egr and Swirl flaps delete

It's been something that I wanted to do for a while, but I couldn't find any information on the internet about deleting the egr cooler - I didn't know what to expect.

EGR cooler removed :

Note the lower intakes which houses the swirl flaps also need to be removed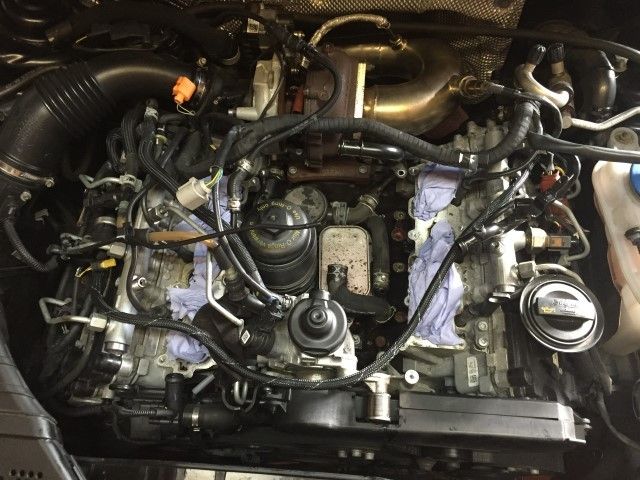 Here you can see the space generated: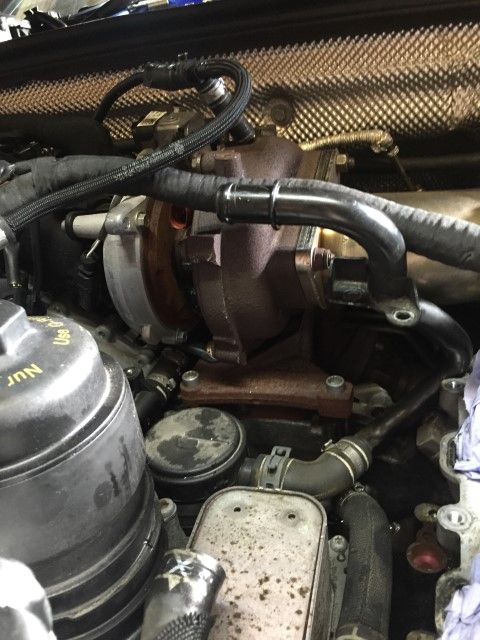 EGR cooler: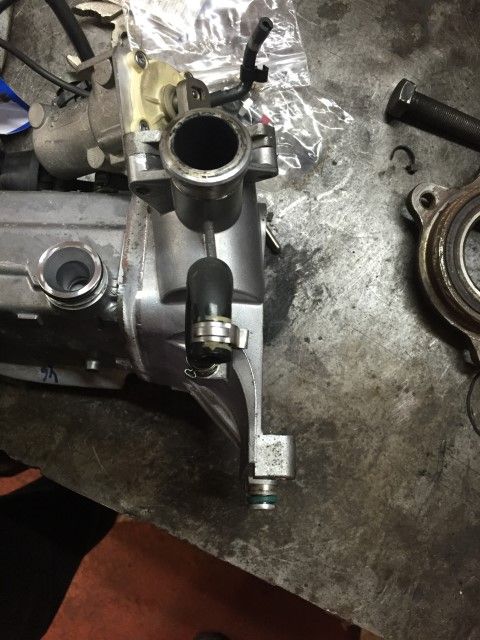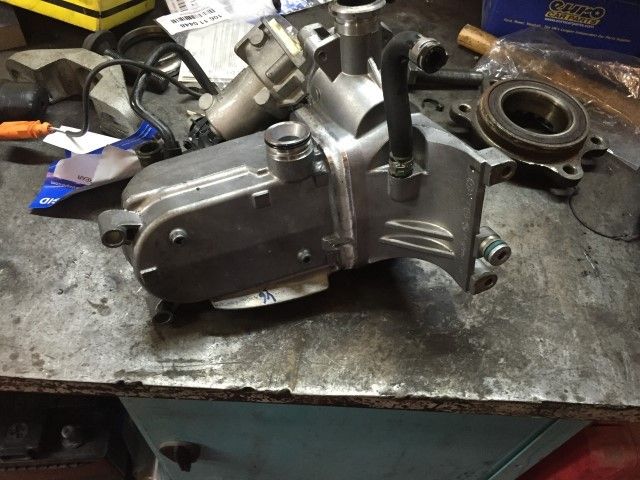 Once removed I noticed the Cooler was plumbed into the block: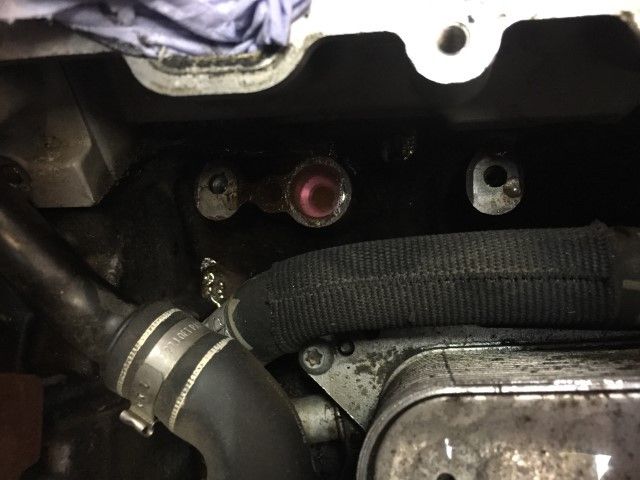 I could think of one solutiuon and that was to hack the egr cooler for the OEM fitting (at this point I really hoped my idea would work):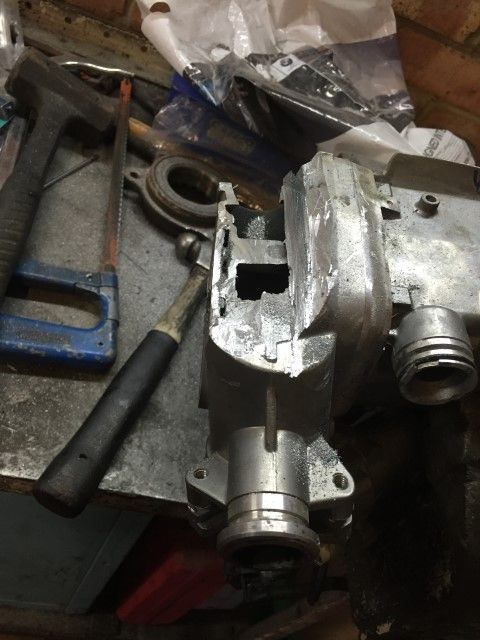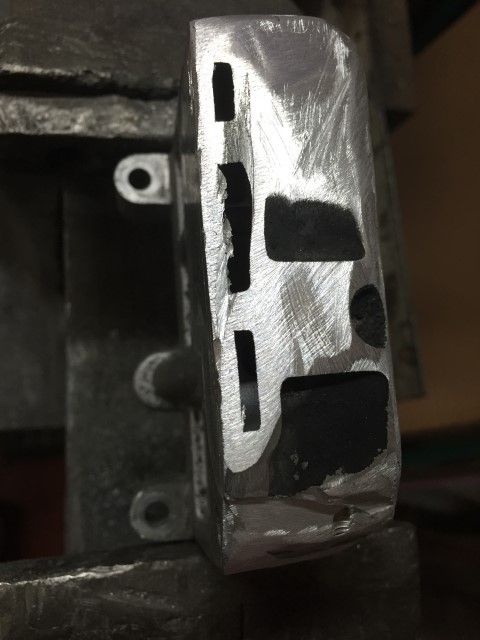 Worked well:




Cleaned up the lower intake: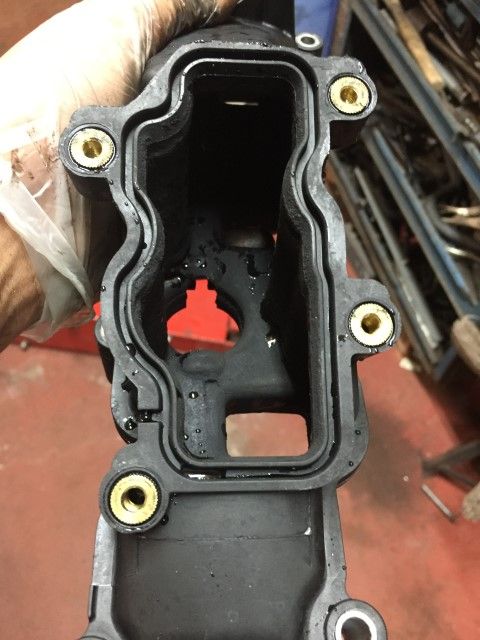 Removed the swirl flaps:




Note the following bushes must be inserted back into the intake to support the rubber gasket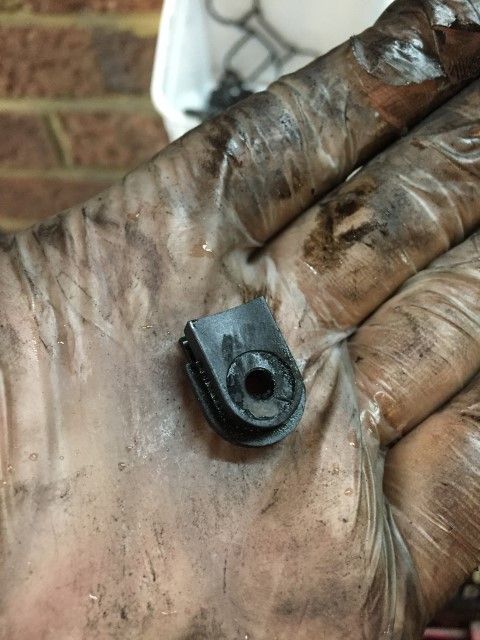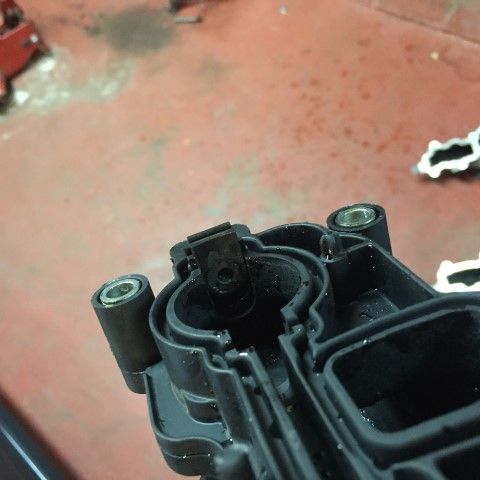 Made a EGR blanking plate for monitoring EMP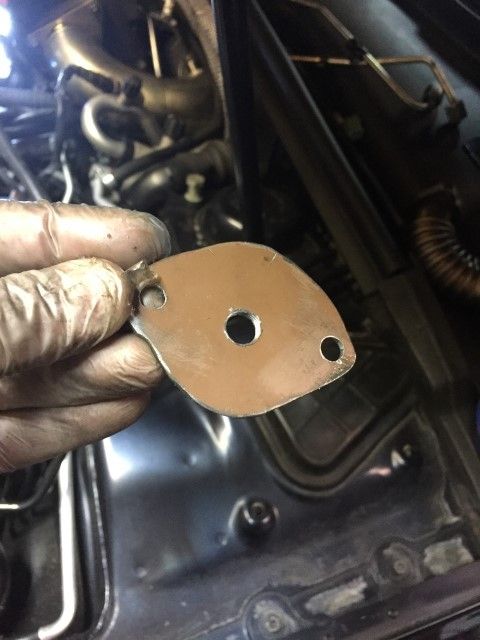 Looks like this now: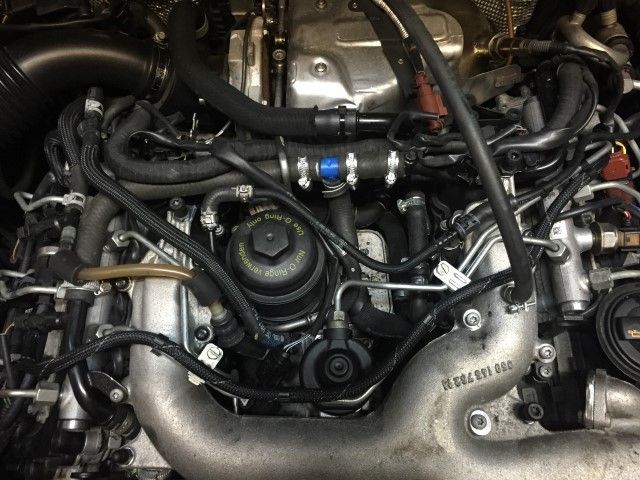 I need to re work the breather pipe which will make a little more space around the turbo

For now I have some DTC to kill


4/10/15

Managed to remove all DTC's now so no more MIL
Done EMP test and recorded 3.8bar peak
Its near double of boost so pushing any further on this set up is a no go at the top end.

http://vidmg.photobu...zpsg4ruxw2g.mp4

Exhaust order has been placed.

I've also noticed since doing the EGR cooler delete my water temp only gets to 90deg in town driving.
I will need to re use the coolant inline thermostat which was on the stock set up.

10/10/15 - Inline coolant regulator

So since removing the EGR cooler the coolant temp has been dropping to low as 50deg when on the motorway.

This regulator use to be mounted on the EGR cooler:




So from the egr cooler I cut out the mounting and also cut the 16mm pipe coupler to weld together.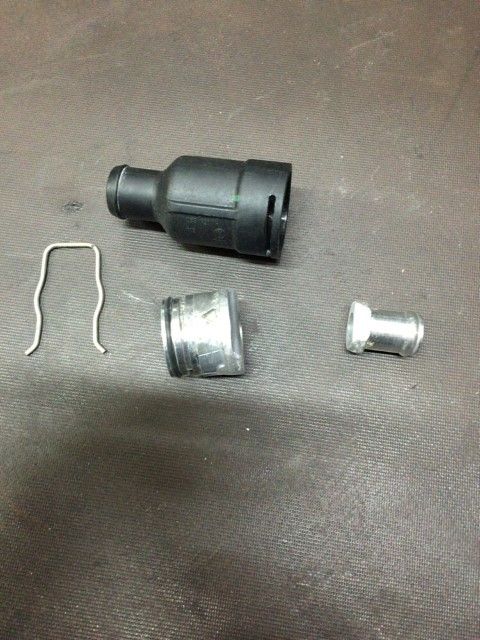 But the internal bore size is alot bigger on the regulator mounting: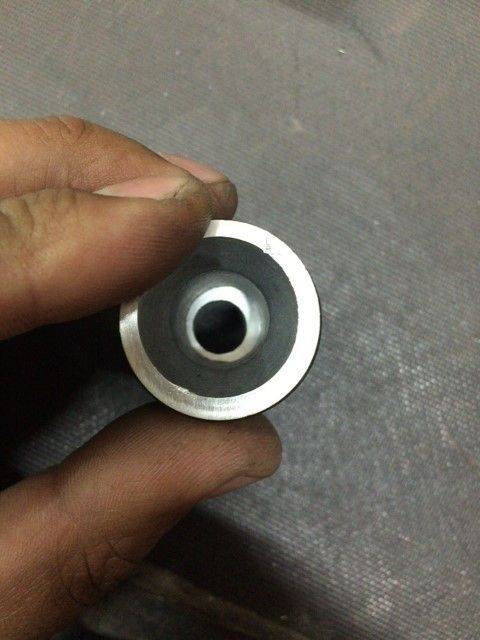 Ended up using a reducing 90 and it worked a treat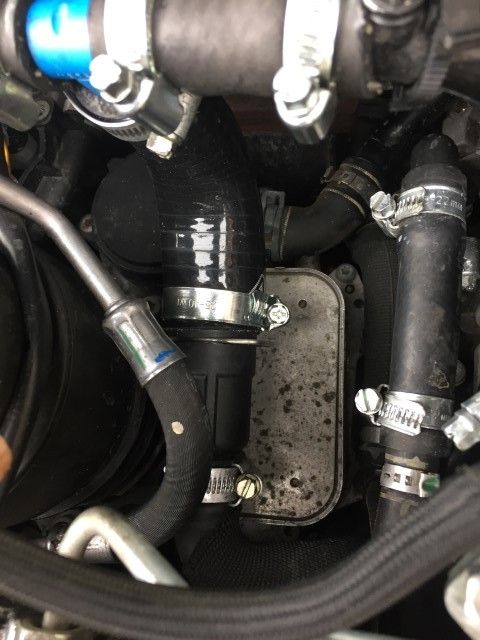 17/11/15

Updated the lighting on the car from Aurora Bulbs (great service). Fog light, interior bulbs, boot, and reverse.

63mm intercooler pipe (turbo to intercooler)

First getting the stock (50mm pipe) out is a pain - I ended up cutting it at muffler:

I wanted to see what was inside any how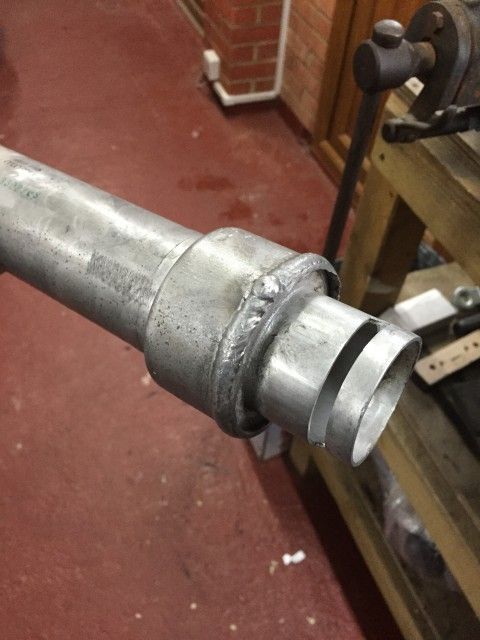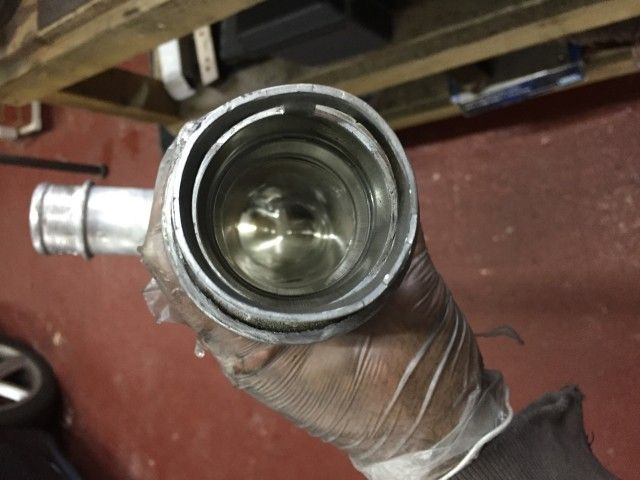 After some cutting I had a rough design: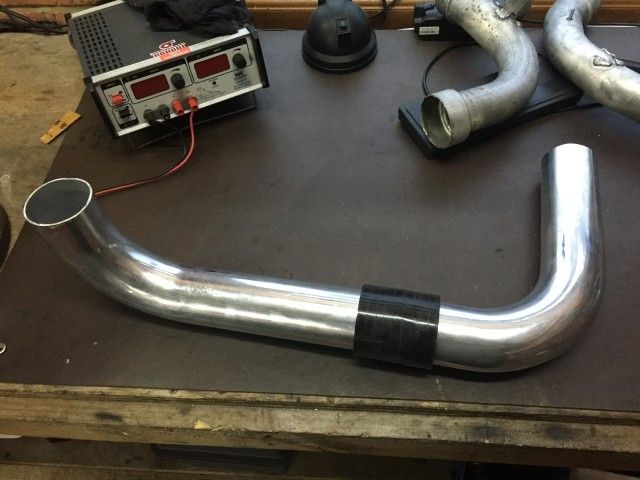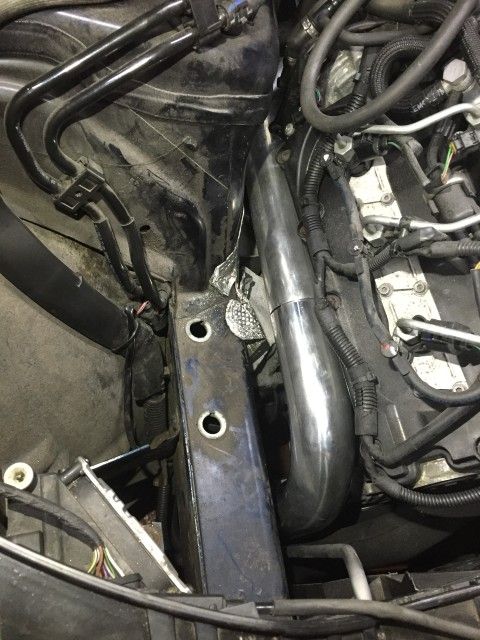 However, the 63mm pipe was too big for the Wagner silicone hose. There was a section in the hose that accepted 57mm, so ended up with this: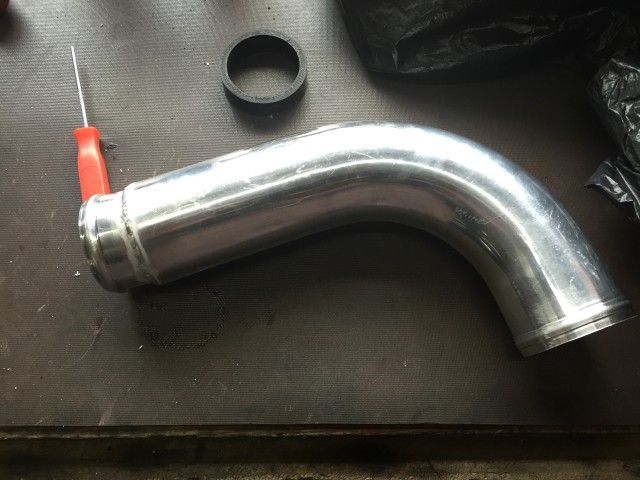 Tapped some threads and fitted a NPT nipple to measure pressure drop rather than using a hose with a hole.

The silicone hose which i used is very close to the exhaust manifold so have ordered some heat wrap and will need to fit a support bracket to hold the pipe up.

In other news my exhaust is ready
Great quality item - custom made 3" with V band connections and ear friendly big mufflers.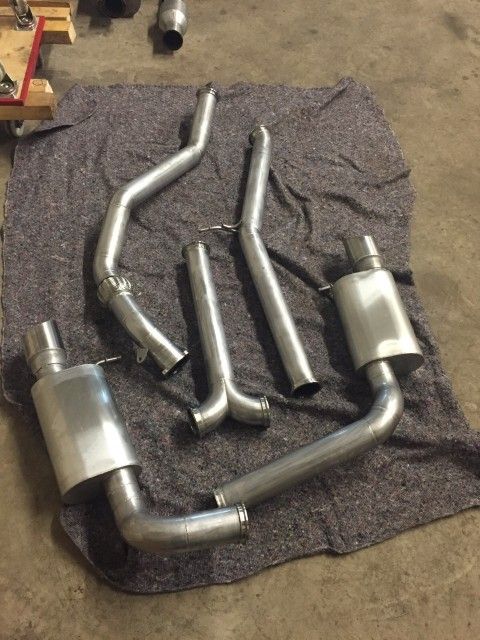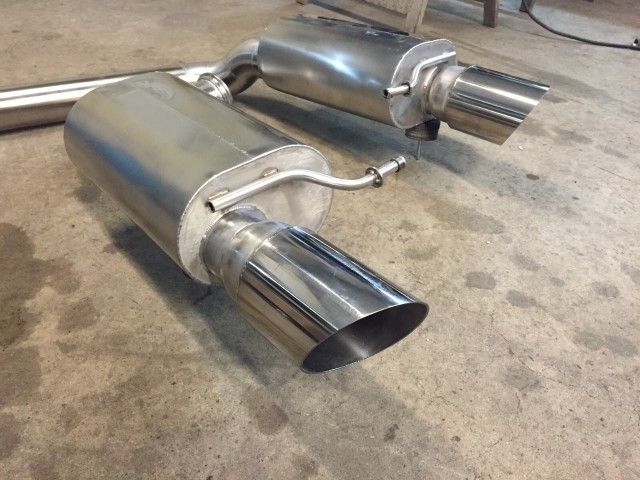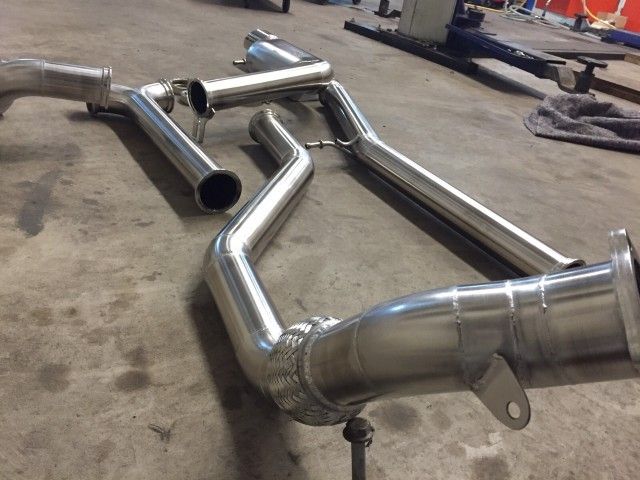 2/12/15 - 3" Exhaust fitted

Well I fitted the 3" exhaust during the weekend and to be honest it looks great and sounds great. But I'm not sure I can live with it.
I'm basically doing a lot of miles and I always wanted a stealth but fast car.

Here is a audio (need headphones really)

http://vidmg.photobu...zpsm4boyvpj.mp4

It does look good: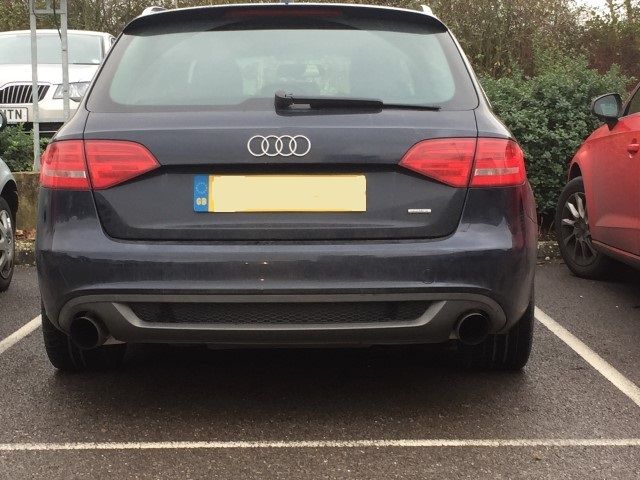 As for performance well its the best I've seen with zero back pressure at 4.6k rpm and only 45mbar in the midrange.
Im sure its old age but I want my car to be silent. So I'll be fitting the standard system back which was giving me 130mbar still not so bad as the 2260 has to deal with at least 500 to 600mbar with the dpf.

In the future if I find the back pressure is too high then maybe I'll fit a active exhaust valve.

I've also now found the limit of the CP4.2 pump - I can get 97mg in the mid range with 81mg @ 4k before rail pressure becomes a issue.
Still smoke free which is great - time for another dyno i think.


December 2015 - Bosch CP3

Christmas break fun..

Next task was to source a fuel pump that would be able to supply enough fuel without causing rail pressure drop.
After considering different Bosch pumps - I went with Bosch CP3. The pump is fitted to some early V6 models.
I managed to get all the required parts from a car that was being broken. Pump, gear, bracket, belt etc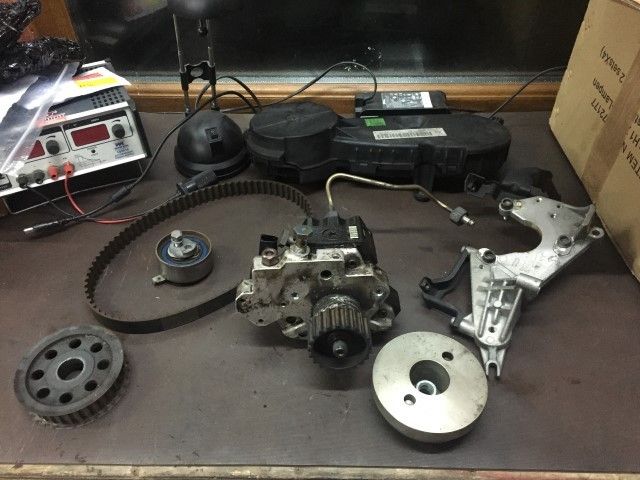 Got M12 adapters for the fuel lines: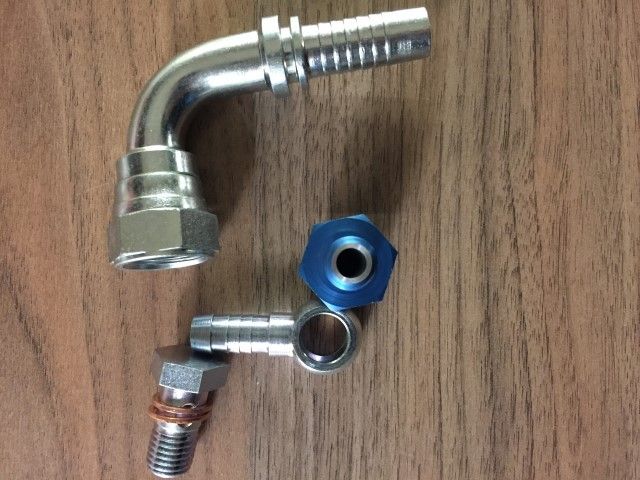 With some luck the bracket mounted nicely, but I had a issue with finding a gear that would keep the belt tight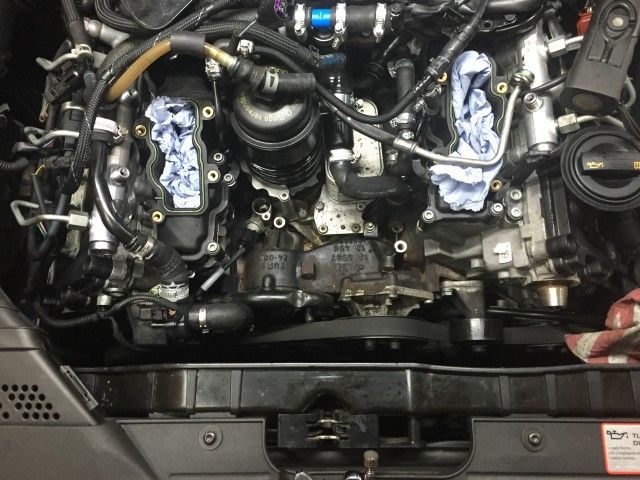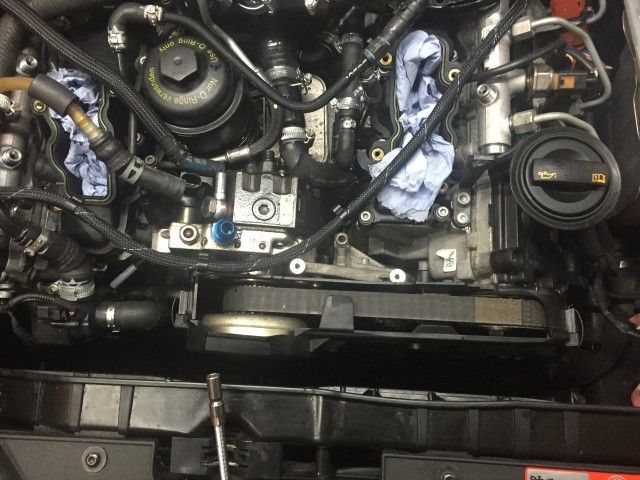 All mounted up but the M12 90deg was a little tall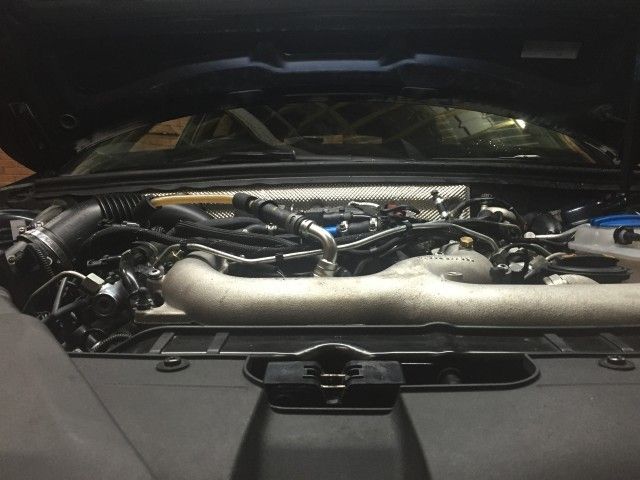 Ended up purchasing OEM feed and return




Finally got the CP3 working after some more tweaking in the tune.
Now I can inject close to 100mg in the mid range without rail pressure drop

The first generation of V6 that used the CP3 pump only had 0.5 bar feed pressure so with 4bar feed pressure we have a excellent start.

Big Turbo

Well I knew it would be only a matter of time before I fitted a bigger turbo.
So it all came together in the Christmas / new year break.
To be honest I had the turbo before I had even purchased the car. It was a nice unit and when it came up for sale I just had to have it.

The turbo itself started is a borg warner John Deere s200v. As stock the turbine is really healthy as 56mm ex but only 44.5mm ind compressor wheel. Lucky for me the unit came modified with a 70/51mm CW. The compressor housing also came with anti surge modification already done.

Turbo pictures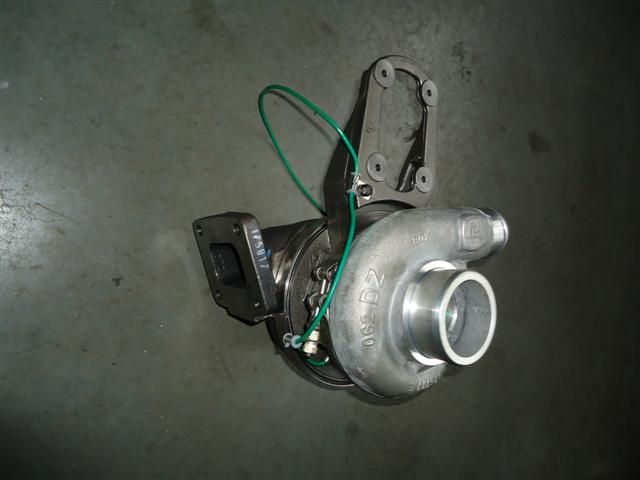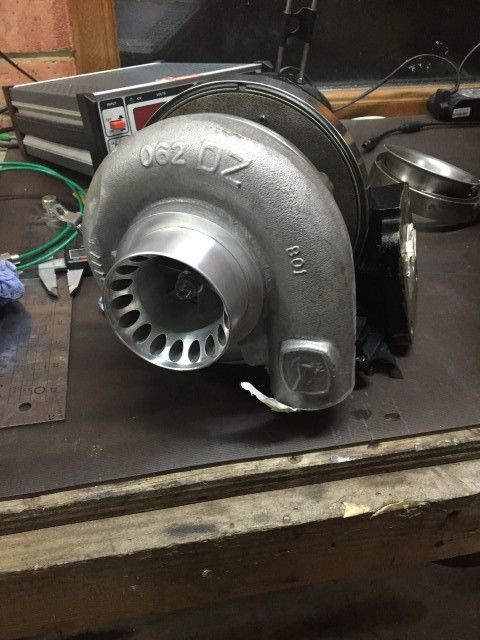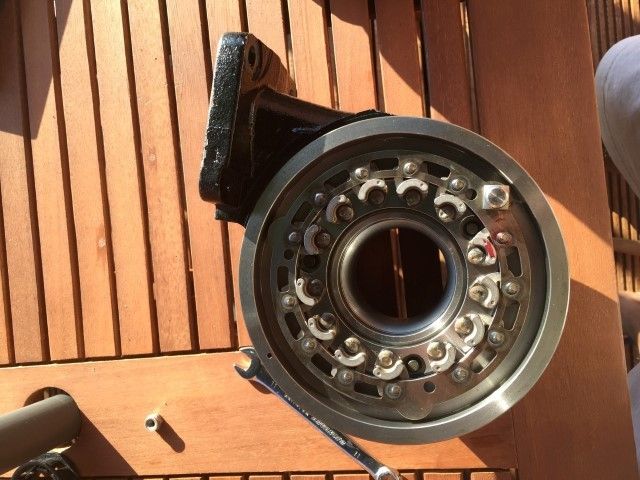 Parts collection - Oil return, feed, compressor housing outlet, flange, V bands etc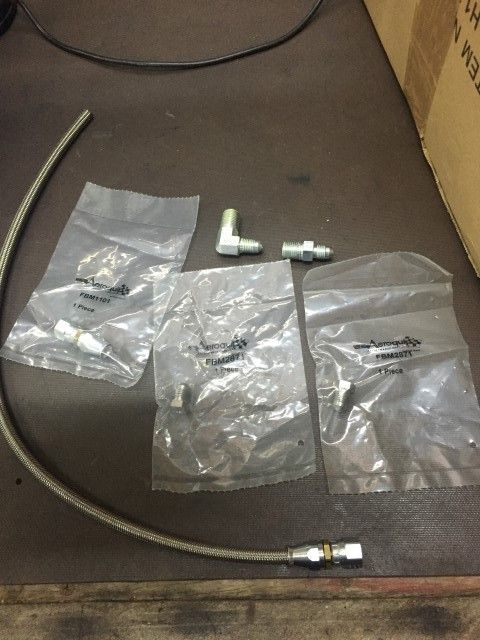 The green cable is the turbo speed sensor

S200 Vs 2260 compressor housing




Fitting

Turbo unit removed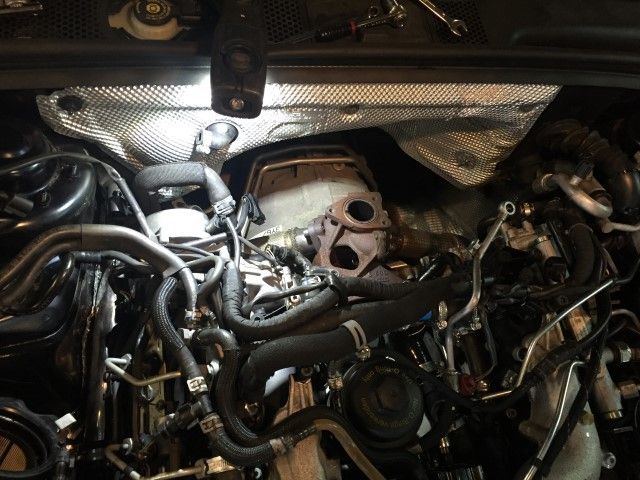 Custom oil return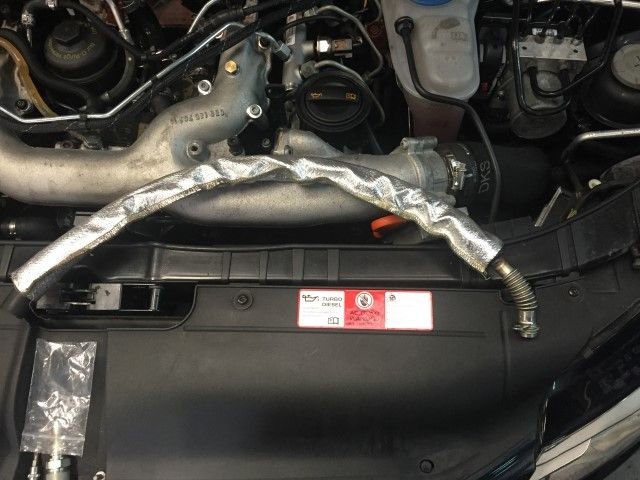 Custom oil feed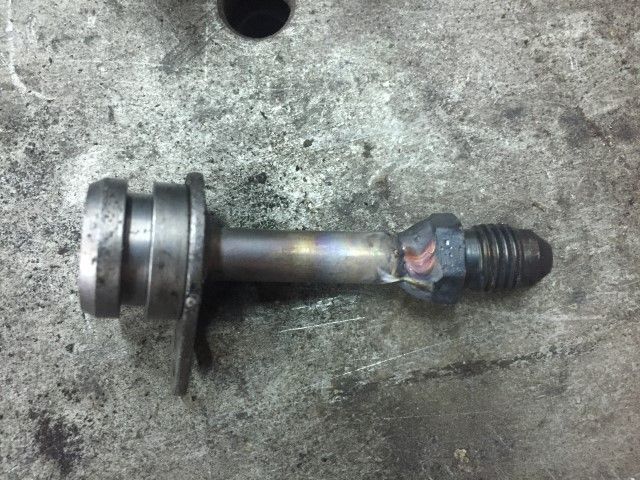 Modified 3" downpipe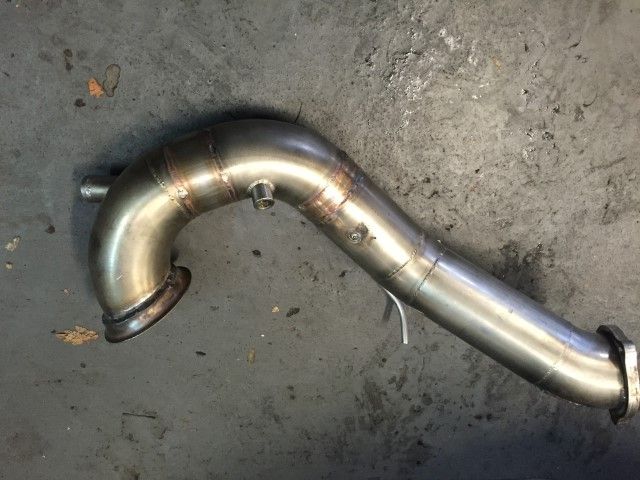 Modified the Y collector and welded the S200 flange directly to it.
Y collector also housed the EGT probe (cut the boss from a broken 2260) and emp adaptor.

The actuator set up was a very fiddle job - getting the angle and throw correct in relation to the turbo lever took a lot of hours.

But finally a VCDS output test could be done with no errors

Ignore the TIP it was something just to get the car running.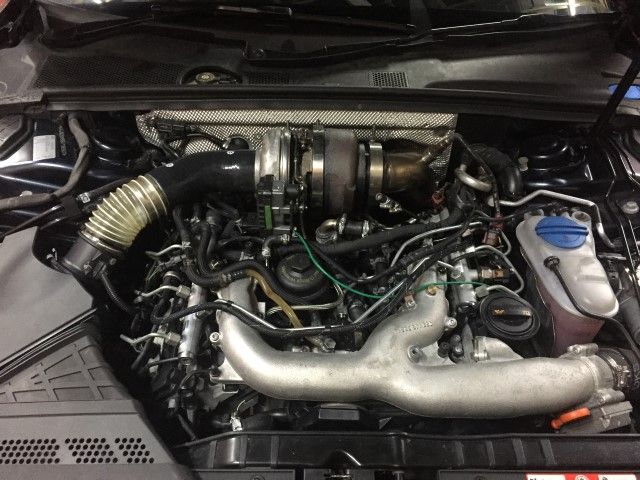 After deleting the EGR cooler water pump, temp sensor and rad outlet sensor I noticed the lambda sensor wasn't behaving itself.
Turns out the rad outlet sensor is used some how to make the lambda sensor to function.

That meant I had to plumb the sensor back in.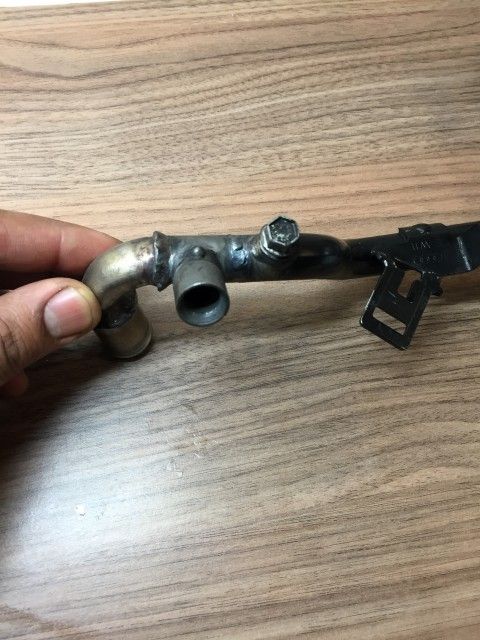 Heat protection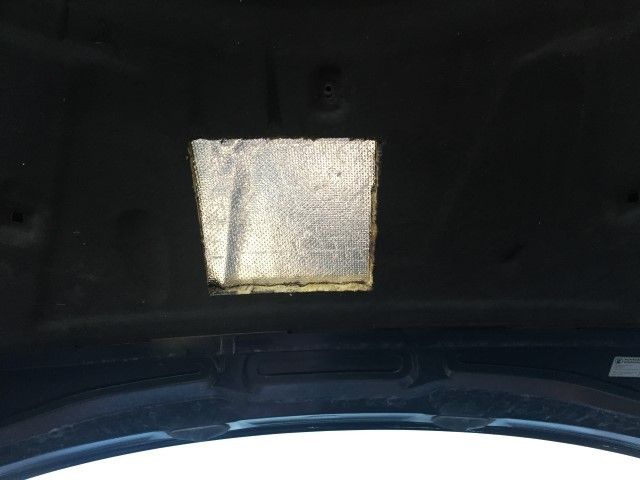 Bi Turbo MAF

As the stock MAF sensor was maxed out at 900kg/h the options were map based smoke limiter (time consuming to get right) or bigger MAF.
For a cleaner tune decided to go with the A6 Bi turbo MAF rated upto 1400kg/h so nice improvement over stock.

The housing is bigger over stock so custom 90mm TIP was needed, but on a plus note the MAF fitted the stock air filter perfectly.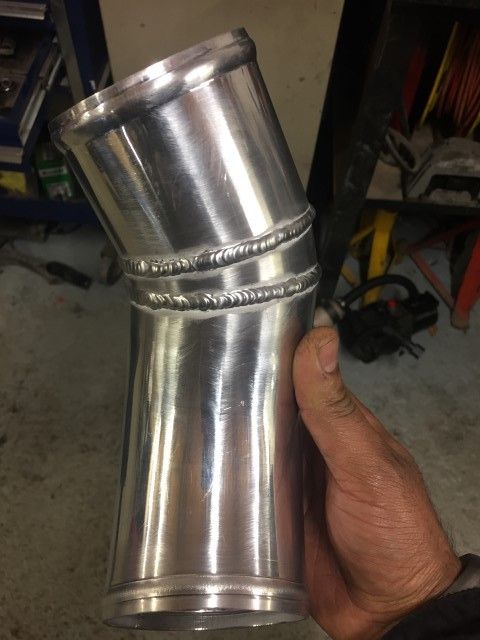 Looks pretty good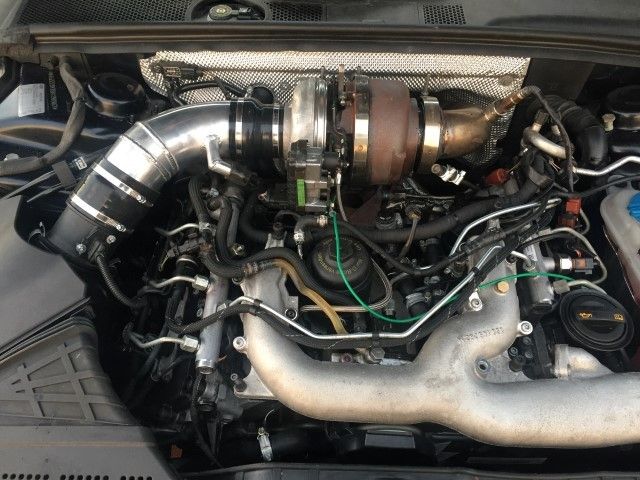 Dyno result




420hp / 830nm
As you can see the power is still going up at 4k but egt was already 900deg so kept it safe.
Maybe more rail pressure next.

Smoke video

http://img.photobuck...zpspre2bfqg.mp4

February 2016 - Turbo Speed sensor

As the s200 has a default speed sensor it would be crazy not to make use of it.
According to BW they say no more than 152k rpm.
Looking on the turbo shaft there is a flat area which would mean 1 pulse per turn - confirmed by using a scope.

I decided to use the EGR input as in VCDS there is a raw voltage display. After some testing on the egr i found the ground, 12v and the input.
Using a input signal from my phone @ 2.5khz i calibrated the voltage shown in vcds to 4.5v which is approx 150k rpm.

Here are some pictures of the home made pulse to voltage convertor

Melted the OEM EGR plug to expose the pins: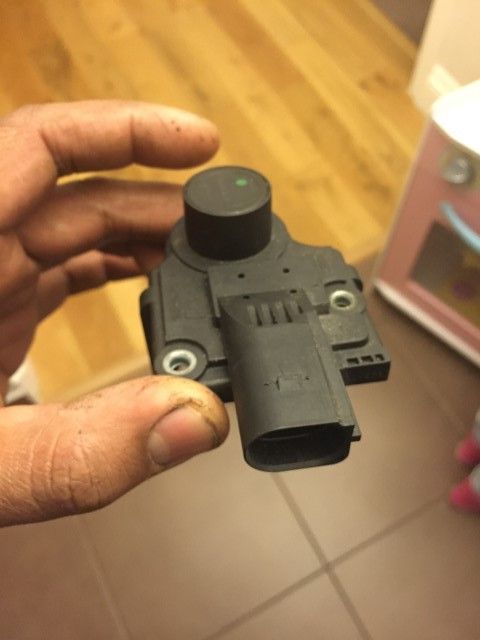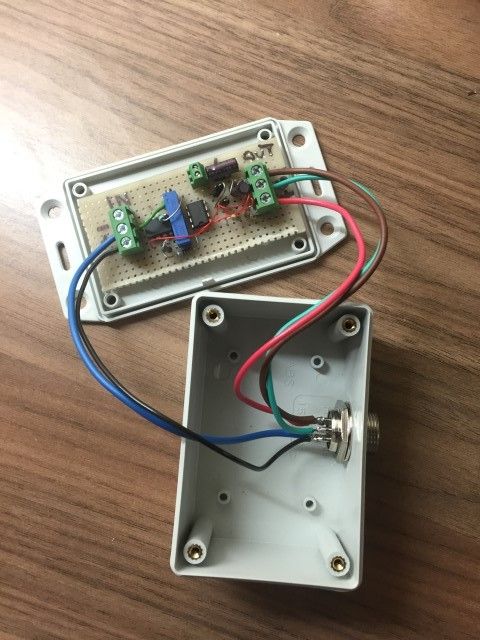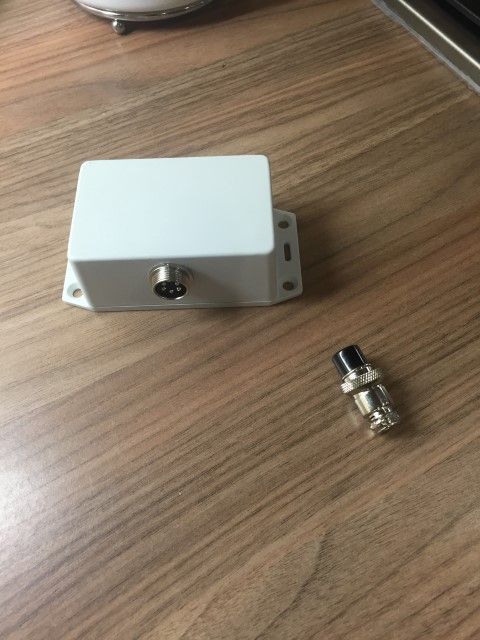 End result shows the turbo has rpm of approx 145k so still some more scope left


I've also calibrated the voltage so the coil light flashes when we get overspin - I've been trying to get the car to limp with a certain voltage/shaft speed is seen, but this is more difficult that expected.


February 2016 - Exhaust manifold pressure sensor & Rail sensor

Its been on the to do list to add an EMP sensor that can measure more than the stock deltap sensor, managed to source a 6 bar sensor from a Renault.
However, they don't sell just the plug on its own so plumbed the wires directly and fitted superseal connector.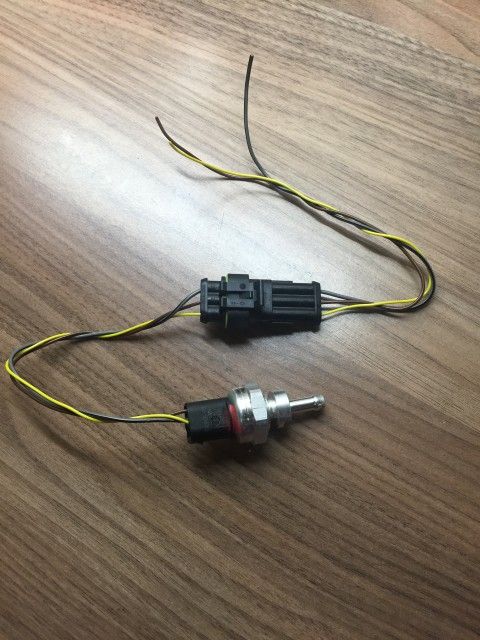 Now tuning spool is easier with emp:boost logging

As the injector limit has been reached causing high egt's after 4k, the workaround is increased rail pressure - currently the M12 stock sensor does not read more than 2000bar.
It turns out the rail end has bung that can be removed for M18 rail pressure sensor and sealing surface is perfect: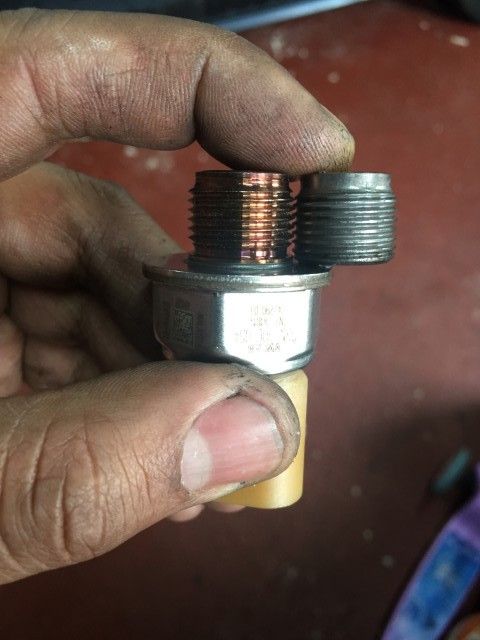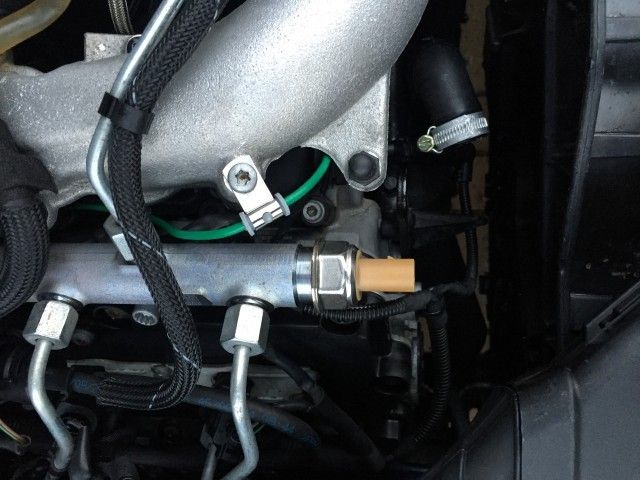 Target is 2200 bar rail pressure and then back to dyno

March 2016 - Dyno

2200bar rail pressure and more fuel: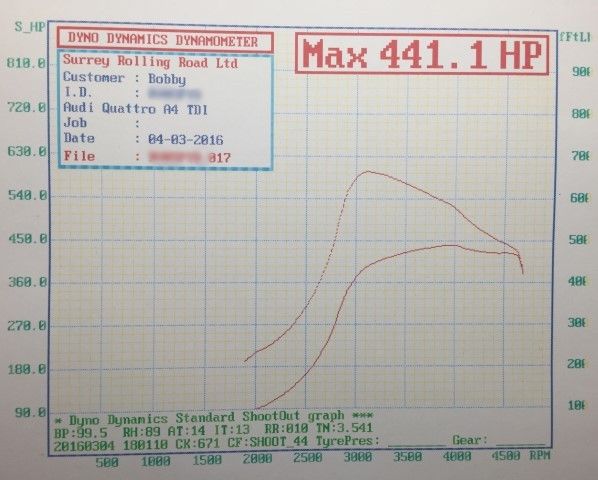 Smoke video

http://img.photobuck...zpsblbbnpex.mp4

April - Santa Pod 12.4 @ 111mph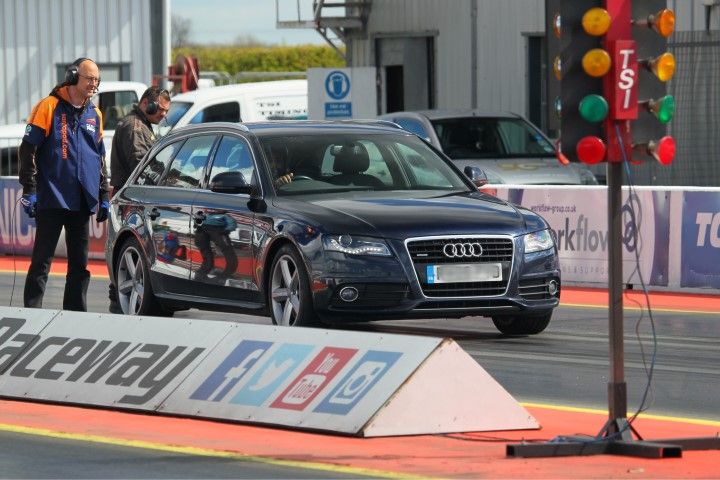 Took Class J


Here are some video's:

Note this run was done with a 2.8k take off and this results in 4.5secs to 60 with a 3k take off I have seen 4.1 secs so I feel this time can be improved upon.
Also, the run was done with full weight, half tank of fuel so around 1.8 tons I would say.

https://youtu.be/1yND5TMq3A4

Incar

https://youtu.be/9fB1L5VJcZE

Cheers
Bobby