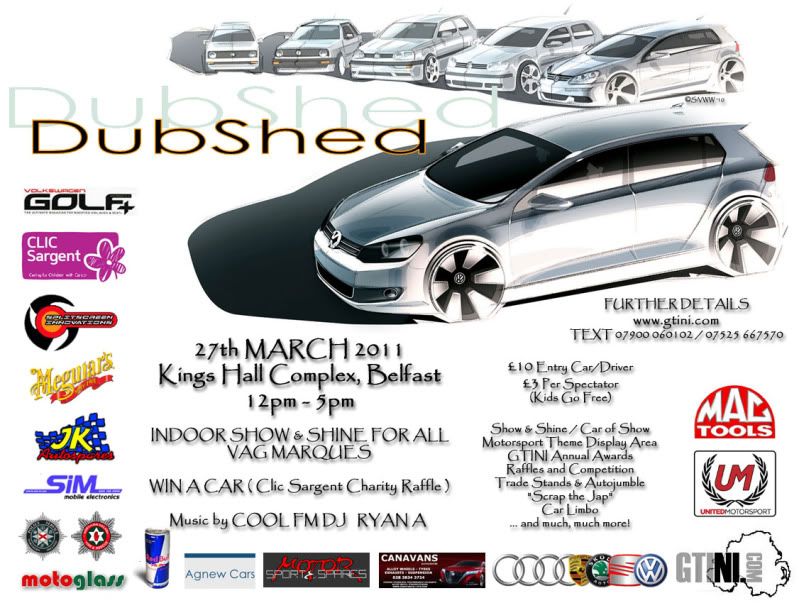 It's nearly that time of the year again!!!
After the great success of Dubshed 2010 ( thank-you once again to everyone who attended and supported the day ) we are proud to announce Dubshed 2011, bigger and better with even more to keep you all entertained constantly throughout the day
Any questions or enquiries, post here, pm, or contact the numbers provided
Details of vehicle entry will be announced in the new year.

Looking forward to seeing you all there, looking to be a great one!!!
Dubshed indoor display entry details
Right guys, due to a serious interest and influx of enquiries for the desire to display indoors at Dubshed we have decided to introduce a s election process. Please pay attention to the following steps as this is how it will happen.
1. Email your entries to [email protected][/b][/u]
Entry details must include the following - one picture of your car, your full name, your car registration and a contact number. If your car is less obvious in the styling department and is more tuning/engineering focused please include a brief list of modifications. If your car is not completed at present don't worry, just include a picture anyhow along with a list of your intentions.
- IF YOU WISH TO BE PART OF A CLUB STAND, ONE EMAIL WITH ONE CONTACT NUMBER FROM ONE REPRESENTATIVE FROM YOUR CLUB WITH ALL APPLICANTS WILL BE SUFFICIENT. THE CARS ON A CLUB STAND WILL STILL BE SELECTED ON AN INDIVIDUAL BASIS BUT WILL STILL DISPLAY WITH ALL THE REST OF THEIR CLUB MEMBERS. THIS MAY MEAN SOME OF YOUR CLUB WILL DISPLAY INDOORS AND SOME OUTDOORS.
2. You (individual entry) or your club representative will then be emailed a number if you have been s elected.

- YOU MUST PRINT THIS NUMBER OUT ON A PIECE OF CARD OR PAPER AND BRING IT WITH YOU ON THE DAY OF THE SHOW OR YOU WILL NOT GAIN ACCESS TO DISPLAY YOUR CAR INDOORS!
Unlimited space is available outdoors at the show so please don't be put off by the entry process for indoor displays. Going on last year's attendance we had a lot more cars outdside than inside and judging by the response to this year's show already it is going to be even bigger
We do have more indoor space than last year so we will hopefully be able to accomodate for the majority of those who wish to display there.
Those of you who have already emailed myself or Simon details do not need to do so again.
[u]CLOSING DATE FOR ENTRIES IS FRIDAY 11TH MARCH
Any queries, please don't hesitate to email to the above address.