*tolucophoto build thread*

Links to mods

Stubby aerial
Smoked LED indicators (halfway down post)
Depo projectors + HIDs (halfway down post)
Sharan badge (halfway down post)
HotTuning coilovers
Whiteline front ARB
Recaro leather interior
Dewipered
Show plates
Cold air feed
Leather arm rest
K&N 57i (custom pipework)
Toyo Snowprox (winters)
GTI 3 spoke wheel
Custom cat-back exhaust
Glass wiper plug
4motion rear valance
US rear lights
Rear upper strut brace
Rotiform NUEs (9.5Js all round)
Rotiform NUEs (staggered)
Mud flaps removed
New HIDs
Colour coding (sort of)
Studio photos
Leather handbrake
Black sunvisors
Black interior lights/ sensors/ handles
Black rooflining 1
Black rooflining 2
Black rooflining 3
LED interior
New rear discs
Anni front splitter
Painted brake callipers
Black seatbelt caps
Black vanity mirror lights
S3 upper and lower braces
Rear camber
Polished Rotiform NUEs
Polished show plates
Plate holders
Bora vents
New heater dials
S3 coolant cover
Black sunglasses holder
TT style pedals
T111 UCO
Polybushed drop links
New GTI 3 spoke steering wheel
Wrapping centre console
Re-wrapping front badge
NUEs fully polished
Sharan rear brake return clips
Polished oil dipstick handle
GTI grille badge
RAMAIR Jetstream XL induction kit
R32/S3/TT wishbone bushes

1.8T engine + mods
1.8T engine
Sachs clutch/ G60 Flywheel
RTech supersize TIP
3" MAF
AUM Looms
Forge 007p
Milltek 3" downpipe / sports cat
Boost gauge
Passat clocks
Polished inlet manifold
Coilpack loom conduit
Injector loom conduit
Polished 007p
Painted rocker and throttle body
New injector seats
Fitting 288mm brakes
Forge coolant hose kit
Braided fuel hoses
1.8T lambdas
Turbo heat shield
Vac hose
New sump

_______________________________________________________________________________________________

Thought I'd start a build thread as I've had my Golf 2 years now and I've finally started to do some proper mods to it.
This thread isn't going to be anything ground breaking, but as I'm a photographer, I love taking photos and want somewhere to post them!



Starting at the beginning… (sorry for the life story!)
*2003*
I started learning to drive when I was 17 and my parents gave me my first car as a Christmas present that year.
It was a beast! 1993 L-reg Citroen AX Jive 1.0 in white. [H]
Fitted a headunit with a sub and amp and spent the next few years deafening myself.
When I went to University I didn't have anywhere to keep it, so unfortunately it had to go.



*2009*
After I finished Uni I was on the look out for a new car.
Living in the centre of Leeds, I knew insurance was pretty steep, so I was on the look out for a 1.4.
I'd always liked Mk4s but didn't think I'd be able to afford one.
Eventually found one in great condition for a decent price on eBay 5 minutes from my mate's house (who is a VW fanatic).
He went to view it and agreed it was perfect so a few days later, and £3000 down, I picked it up.
2003 black pearl on 77,000.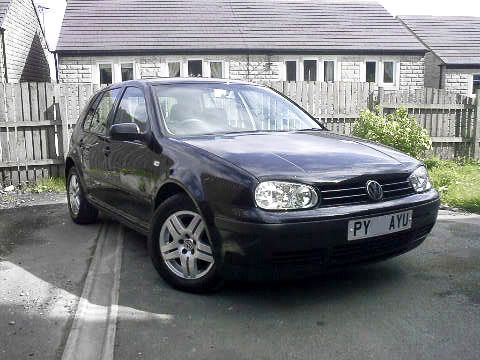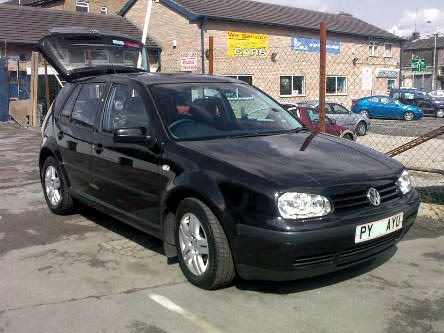 I had just got a new job working in a photography studio, but the pay wasn't great and the frequency of work was even worse.
My original plan was to keep the 1.4 for a year, save up and upgrade to a more powerful Mk5 Golf. So I decided not to spend too much on it….
(Never works out the way you hope!)

My first mod was to fit the single din headunit, sub and amp from my AX.
I began looking on the Internet for guides on how to dismantle interior parts and run the wires through the firewall.
I stumbled upon a really helpful website called UK-MKIVs.net [:D]
Followed a guide and got the cabling sorted.
Decided I didn't want to screw the amp to the back of the seat like in my old car, so I decided to hide it under the boot liner inside the spare wheel.
The amp is only small so I bought some MDF and cut it to size, painted it black, mounted the amp to it and wired it all up.
Pretty happy with the result! Nice and tidy.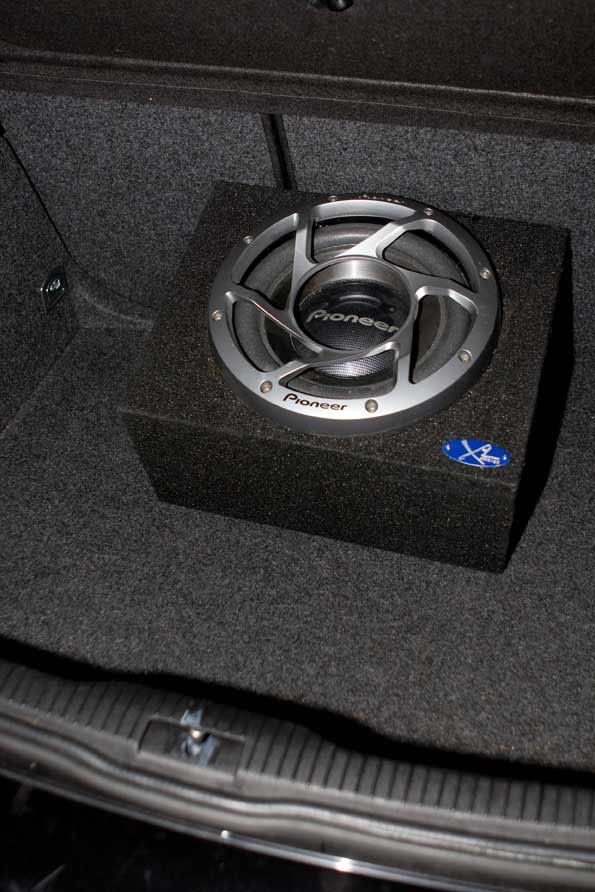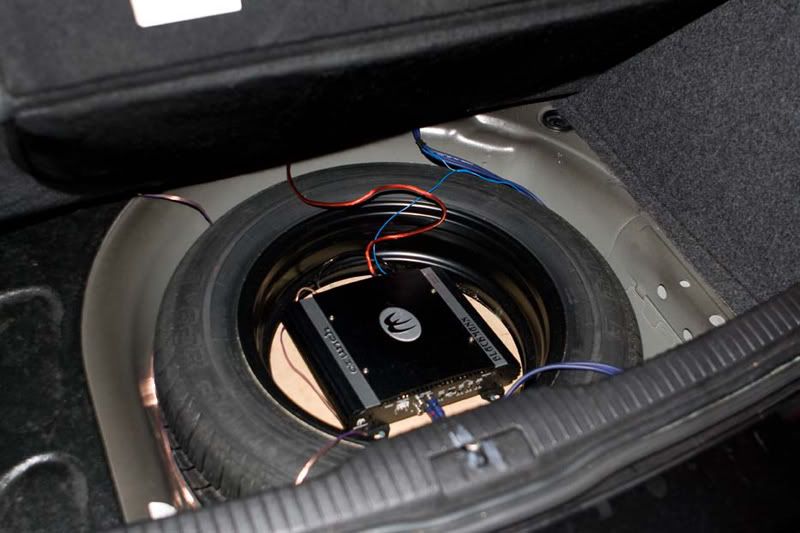 Its designed so that if I need to get the spare out, the MDF board just lifts out of the way.

I also fitted a black aluminium tax disc holder.

A month after owning the car, I moved to a house with a drive and garage.
A few weeks later, the car was on the drive overnight while I was clearing the garage when some scumbag broke in. [:@]
They smashed the passenger front window and stole the front panel off my CD player, but not the player itself!
This was the first time anyone on the street had had any trouble like this and the police said they think they were targeting Golfs in the area.

So this meant some new window glass and a new headunit. [:(] (And I park in the garage every night now!)
I replaced the headunit with a Kenwood KDC-W7544U.
You can control an iPod from the display, and most importantly, the colours can be matched almost perfectly to the dash!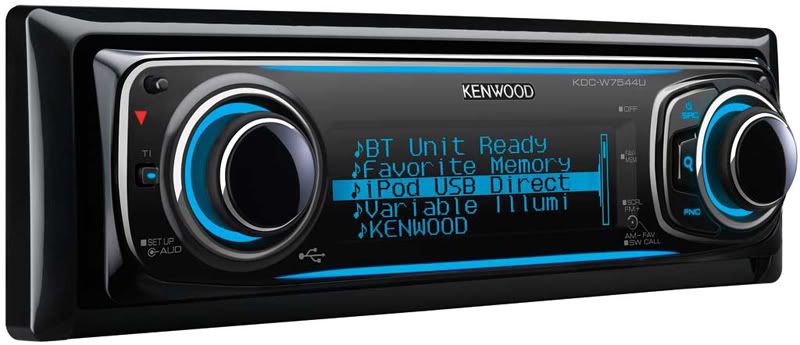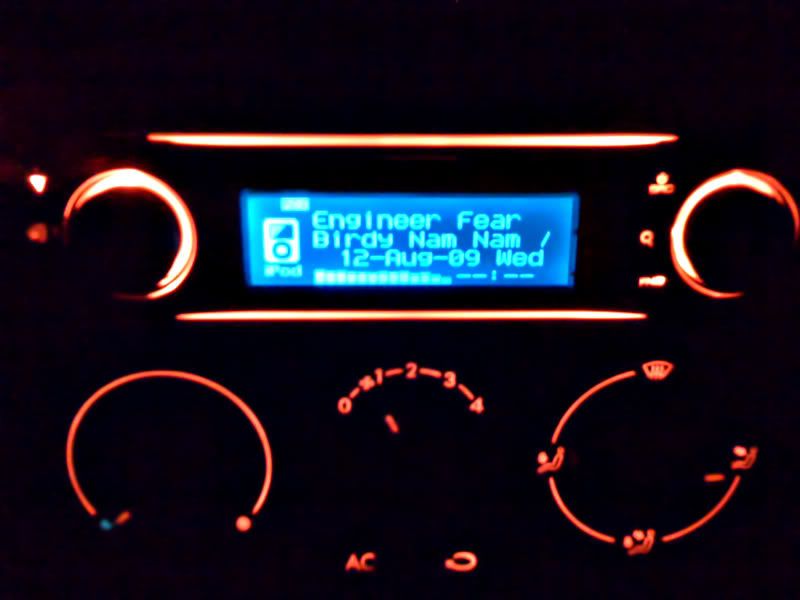 The week after the break in, my bad luck continued. Exiting a roundabout near my house, a car changed into my lane and side swiped me. [:@]
Dented the driver's door and ripped my mirror cover off.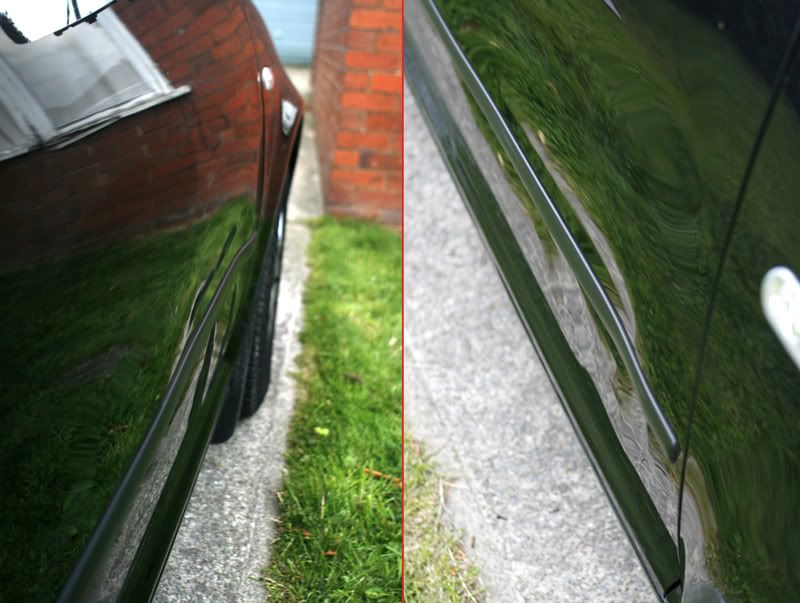 Driver was an 88-year-old man. He could barely walk, and said it was his fault.
To cut a long story short, he then denied liability. [facepalm]
My insurance company, Direct Line, tried to mess me around encouraging me to pay my excess, even though I had a witness.
Many phone calls and 9 MONTHS later, I get a letter saying he's admitted liability. Wouldn't use Direct Line again even if it were free!
New door skin, mirror case and re-sprayed (including my front bumper for some reason??) and it was all back to normal.
During the repair I had a '59 Vauxhall Astra 1.6. It was dreadful. [:O]

I fitted a rear aero wiper, as my old one was pathetic!