I've recently joined the Mk4 community, rather than high-jack every other thread going, I'll keep this trucking as i make changes to mine. I bought a 1999 Mr T plate 5 door 1.8 Gti Turbo, advertised locally on eBay, it appears to be a genuine 3 owner car, 130k miles with a folder an inch thick with every expense incurred since new, from light bulbs to cambelts. I bought it for numerous reasons; its a pretty car, you're either a VW person or not (I'm not a fanboi and whilst every journalist would tell you a Focus 'rides better' its just not the same experience), its unmolested and its the right colour. Here she is: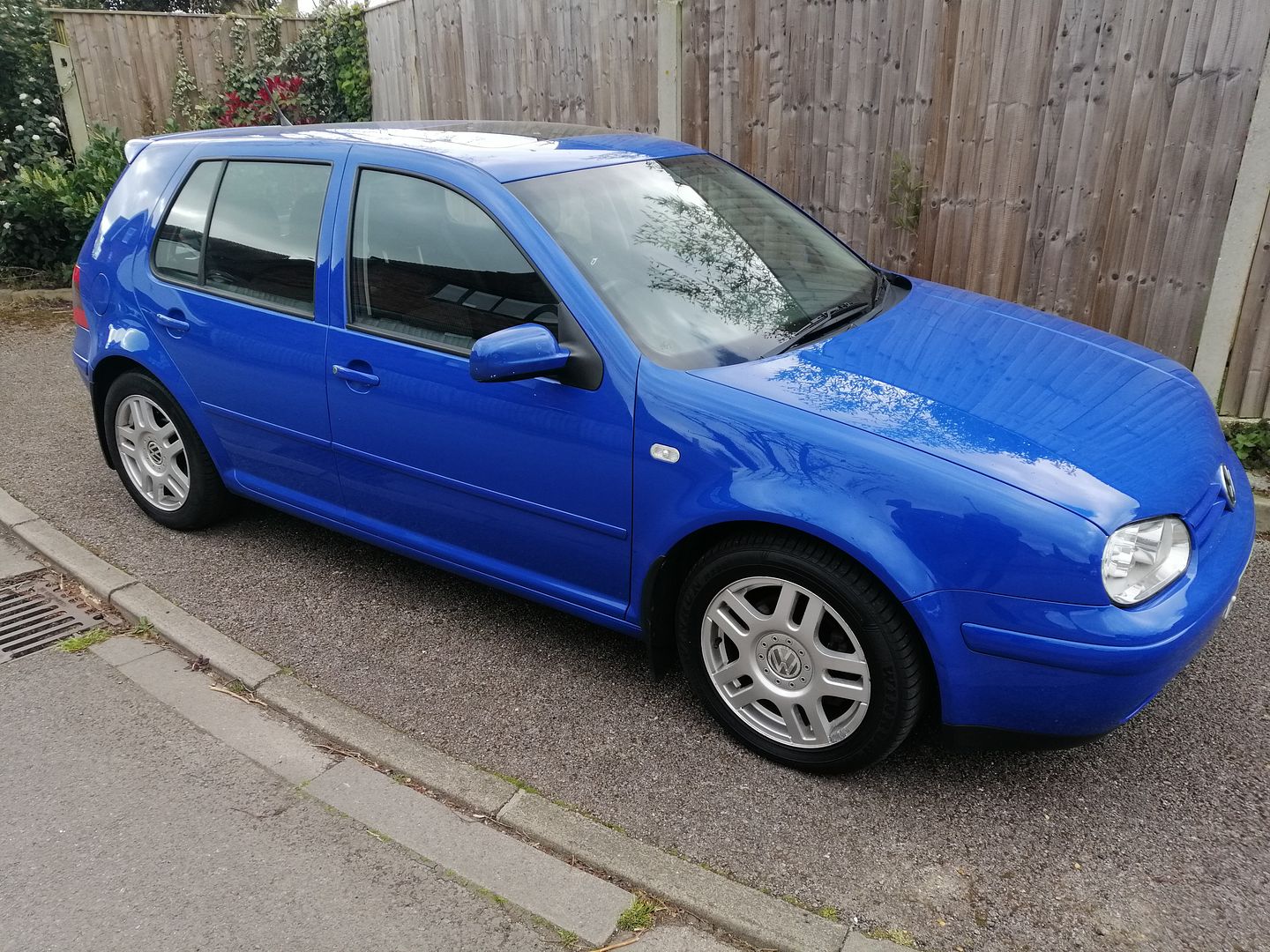 At the moment I'm undecided if shiny paint syndrome has kicked in and blurred my ability to sniff out a reasonable car, the body work is very... very good, the wheels (on this side) are in good shape, less so on the other side but easily fixed.
The good;
Bodywork appears to be in good shape, no rust
Good history
Recaro interior in good shape
Unmolested
No mayonaise on the oil filler cap
She can still lift her skirt
The bad;
Theres a stutter before the turbo spools up when you put your foot down
She rides like a bag on bones, suspect the shocks are all shot with age and at least one ball joint on the near side needs replacing (despite the fresh MOT)
The 'walnut' trim gave up pretending a long time ago
Several parts of the interior trim are flaking
As with all 'new' second hand cars, i'm initially cautious that the previous owner was selling a time bomb.
I'd like to make it an original classic but i'm also not into (or able to) throw good money after bad, I'll drive her for a bit and see if anything obvious crops up before spending any bucks on her. A service, new cam belt and bits will have to do before new shocks or other temptations get sponsored. I've got several years of spannering all manner of motorbikes (pre-children), I'm fortunate enough to have a driveway and reasonable garage, a reasonably potent air compressor and a Haynes manual.... what could possibly go wrong? If all else fails I have an Andy (1st reserve) and a Tim if the spannering gets beyond my limited expertise. Watch this space.... though chances are there will be far better threads to follow, I'm aiming for slow and underwhelming, you have been warned.